baked caramel custard brûlée tart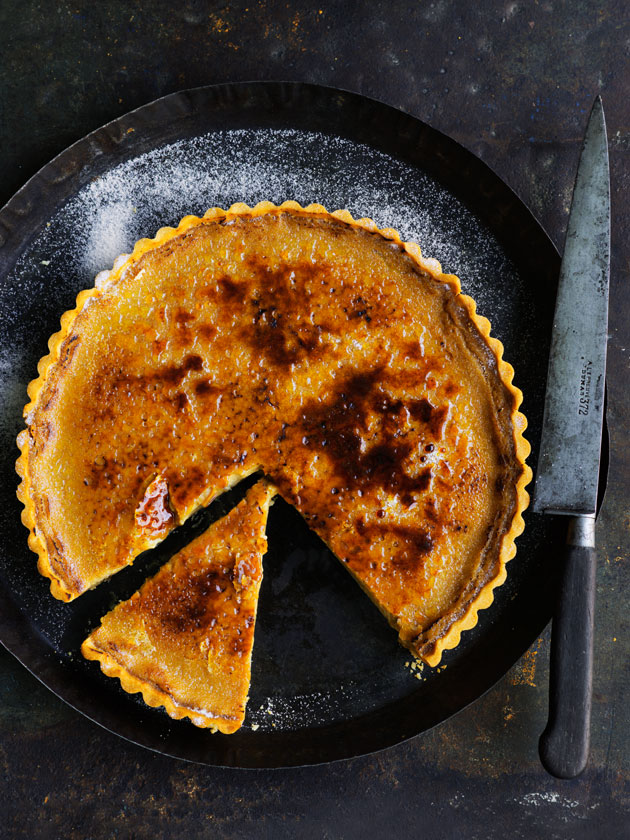 ¾ cup (180ml) milk

1 cup (250ml) single

(pouring) cream
2 eggs
2 egg yolks

2 tablespoons

caster sugar

½ cup (120g)

firmly packed dark brown sugar

2-3

tablespoons caster sugar, extra
sweet shortcrust pastry
1¾ cups (260g) plain (all-purpose) flour
½ cup (80g) pure icing sugar
125g unsalted butter, chopped
2 egg yolks
1 tablespoon iced water
To make the pastry, place the flour, sugar and butter in a food processor and process until the mixture resembles fine breadcrumbs. While the motor is running, add the egg yolks and iced water and process until a dough just comes together.

Remove the

dough from the processor and roll out between 2 sheets of non-stick baking paper to a 4mm thick round. Refrigerate for 1 hour.
Preheat oven to 180°C (350°F). Ease the pastry into a 22cm tart shell and trim any excess. Prick the pastry base with a fork. Line the tart shell with non-stick baking paper and fill with beans, rice or baking weights. Bake for 10 minutes, remove weights and paper and bake for a further 10 minutes or until golden.
To make the filling, heat the milk and cream in a saucepan over medium-low heat until warm but not boiling. Place the eggs, yolks, caster sugar and brown sugar in a bowl and whisk to combine. Remove the cream mixture from the heat. Slowly pour the warm cream over the egg mixture, continuously whisking to combine.

Reduce oven

temperature to 160°C (325°F). Pour the custard mixture into the tart shell and bake for 30-35 minutes or until still wobbly in the middle and set on the outside. Cool for 15 minutes then refrigerate for 1 hour or until cold.
Just before serving, sprinkle the top with the extra caster sugar. Using a kitchen blowtorch, caramelise the sugar until golden. Cut into wedges to serve. Serves 6-8
Tips + Tricks:
Combining caster and dark brown sugar gives this tart its velvety, smooth custard center with the perfect amount of wobble that contrasts perfectly with the delicious brulee crunch topping – it's the ultimate play on texture in every bite.
Photography: William Meppem

donna hay team
Hi Nicol, indeed you can use this recipe for individual tarts however the tart shell size will dictate the cooking time. As we have not tested the recipe at a smaller size we are unsure of the cooking time. Let us know how you go. Happy baking! the dh team
Nicol Hoes
Can I use this recipe for individual tarts? what would the cooking time be for the smaller tartshells?