basic meatloaf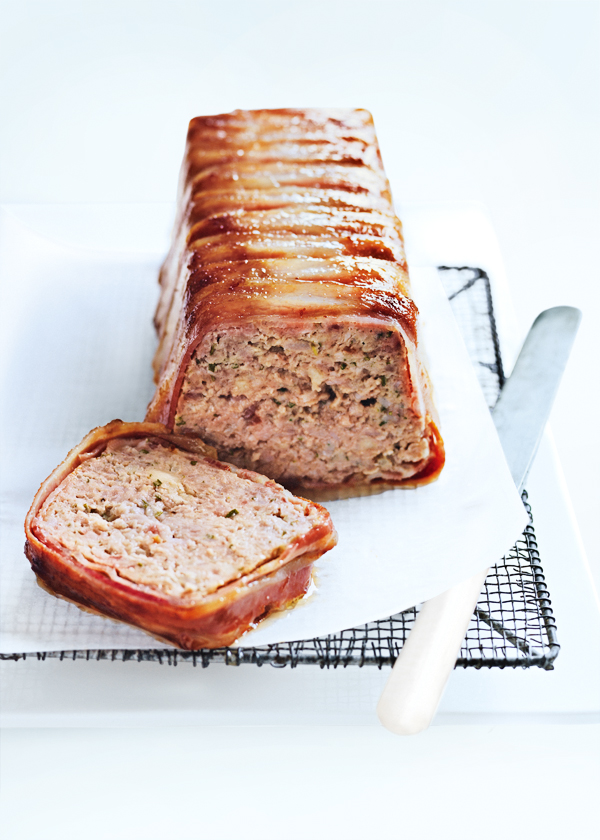 1 tablespoon olive oil
1 large brown onion, finely chopped
3 cloves garlic, crushed
24 slices flat pancetta, rind removed
1 cup (70g) fresh breadcrumbs
¼ cup (60ml) milk
2 tablespoons finely chopped rosemary
1 tablespoon Dijon mustard
2 eggs
400g pork mince
400g veal mince
½ cup chopped pancetta, extra
sea salt and cracked black pepper

Preheat oven to 180°C (350°F). Heat the oil in a non-stick frying pan over medium heat. Add the onion and garlic and cook for 5–7 minutes or until softened. Allow to cool completely.

Line a 22cm x 8cm x 7cm tin with the pancetta slices, slightly overlapping. Set aside. Place the breadcrumbs and milk in a large bowl and set aside for 5 minutes or until the milk is absorbed. Add the onion mixture, rosemary, mustard, egg, pork and veal mince, chopped pancetta, salt and pepper and mix well to combine. Press the mixture into the tin and fold over any overhanging pancetta. Place the tin on a baking tray and bake for 40–45 minutes or until just cooked. Set aside for 5 minutes before inverting onto a tray lined with non-stick baking paper.

Bake for a further 5–10 minutes or until golden. Serves 6–8.
Tips: When lining the tin with prosciutto, bacon or other cured meats, it's important to cover the base and sides of the tin completely by overlapping the slices. This will ensure the meatloaf is covered and keeps it succulent as it cooks. It also adds an extra depth of flavour and colour to the meatloaf. You can use pancetta, prosciutto, bacon or speck to line the tins. When spooning the meatloaf mixture into the prepared tins, be sure to use the back of a spoon to press the meat down firmly. This will help your meatloaf to hold its shape and will give it an even texture.
To Freeze: Keep meatloaf in air-tight containers in the refrigerator for up to three days. To freeze, simply slice the cooked meatloaf and place between sheets of non-stick baking paper in air-tight containers. You can freeze meatloaf for up to three months. Simply defrost in the fridge overnight before reheating.
PETER MARRA
I have substituted the pork and veal for chicken and turkey (on separate occasions) and the result was outstanding
Cat G
Yum! I used a combination of good quality sliced ham and pancetta to line the bake dish to avoid over saltiness. I didn't use any in the mixture.
Get the delicatessen to slice the ham/pancetta not too thick and not too thin.
Delicious served with any rice dish. X
Joy Tilney
This recipe is delicious! I replaced veal with pork & used bacon. It is moist & very flavoursome. The only change I would make is 1 & 1/2 tablespoons of Djion.
donna hay team
Hi Deanne, the breadcrumbs are combined with the milk in step 2. Happy cooking!
Deanne Blackstock
Hi, after watching this recipe on TV I was inspired to make it tonight. I followed the recipe but couldn't work out at what point to add the breadcrumbs as it doesn't say in the recipe. Please help!