cauliflower cheat's risotto
with mint and pistachio oil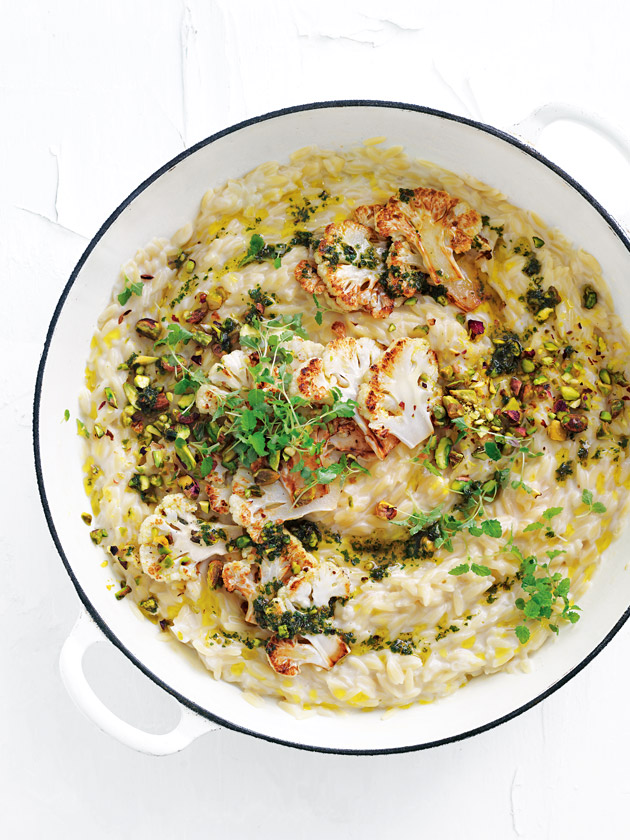 ½ cup (125ml) extra virgin olive oil

1 onion, finely chopped

sea salt and cracked black pepper

1½ cups (330g) risoni

2½ cups (625ml) boiling water

2 cups (500ml) chicken stock

½ cup (120g) crème fraîche

¼ cup (20g) finely grated parmesan

400g cauliflower florets, sliced

1½ cups mint leaves

2 tablespoons pistachios, chopped, plus extra to serve

micro (baby) lemon balm leaves, to serve

Heat 1 tablespoon of the oil in a large heavy-based shallow saucepan over medium heat. Add the onion, salt and pepper, and cook, stirring, for 4–5 minutes or until soft.
Add the risoni, water and stock and bring to the boil. Cook, stirring, for 6–8 minutes or until the risoni is soft and the liquid has reduced. Stir through the crème fraîche and parmesan.

While the risoni is cooking, heat 1 tablespoon of the remaining oil in a large non-stick frying pan. Add the cauliflower, salt and pepper, and cook for 5–6 minutes or until golden brown. Place the mint, pistachio and remaining oil in a small food processor and process until finely chopped. Top the risotto with the cauliflower, mint and pistachio oil, and serve with lemon balm and extra pistachio. Serves 4.

Photography: Ben Dearnley
There are no comments for this entry yet.