almond and orange blossom layer cake
with vanilla ricotta icing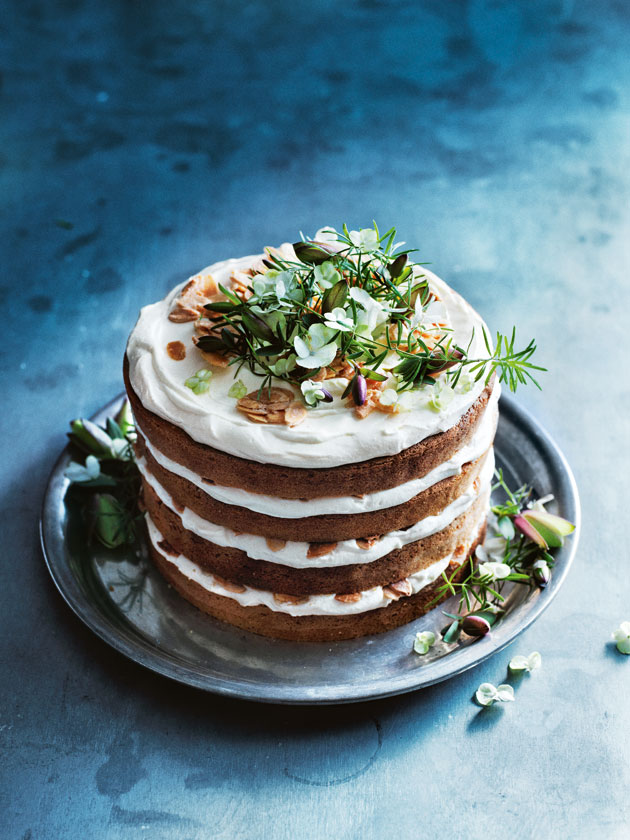 8 eggs, at room temperature
1½ cups (330g) caster (superfine) sugar
3 teaspoons orange blossom water
2 cups (300g) self raising (self-rising) flour, sifted
2 cups (240g) almond meal (ground almonds), sifted
2 tablespoons finely grated orange rind
200g unsalted butter, melted

fresh flowers, to decorate (see tips)
vanilla ricotta icing
100g unsalted butter
softened 250g cream cheese
softened 250g ricotta
1 teaspoon vanilla extract
1¼ cups (200g) icing (confectioner's) sugar, sifted
almond crisp
1 cup (80g) flaked almonds
½ cup (80g) icing (confectioner's) sugar
sifted 2 tablespoons water
Line 2 x lightly greased 20cm round cake tins with 2 layers of non-stick baking paper and set side.
Preheat oven to 160ºC (325ºF). Place the eggs, sugar and orange blossom in the bowl of an electric mixer and whisk for 16–18 minutes or until pale, thick and tripled in volume.
Transfer the mixture to a large bowl and fold through the flour until just combined. Add the almond meal, orange rind and butter and fold through until combined.
Divide the mixture evenly between the prepared tins and bake for 45–50 minutes or until springy to touch. Turn out onto wire racks to cool completely. Increase the oven temperature to 180ºC (350ºF).
To make the almond crisp, place the almonds, sugar and water in a bowl and toss to combine. Spread the almond mixture in a thin, even layer on a large, lightly greased baking tray lined with non-stick baking paper. Bake for 12–14 minutes or until golden. Allow to cool completely on the tray and break into pieces.
To make the icing, place the butter, cream cheese, ricotta and vanilla in the bowl of an electric mixer and beat for 6–8 minutes. Scrape down the sides of the bowl, add the sugar, and beat for a further 8–10 minutes or until smooth and creamy (see tips).
To assemble, trim the top of each cake and halve horizontally. Place the bottom layer on a cake stand or serving plate. Use a palette knife to spread 1 cup of the icing onto the cake and sprinkle with ⅓ cup of the almond crisp.
Top with another layer of cake and repeat with the icing, almond crisp and remaining cake layers, finishing with a sprinkling of almond crisp. Decorate with flowers to serve. Serves 12–14.
Tips: Source food-safe, pesticide-free flowers from your local florist. If the icing is a little soft, refrigerate for 15–20 minutes or until thickened and spreadable. All the components of this cake can be made 1 day in advance. Wrap the cakes in plastic wrap, place the icing in an airtight container in the fridge and the almond crisp in an airtight container at room temperature. Assemble the cake on the day of serving. Bring the icing to room temperature and beat to soften before using.
donna hay team
Hi Penny! If the cake is un-iced yes! You can wrap it in baking paper and then cling film and keep in the freezer for up to a month. To thaw the cake, make sure you do so in the fridge.
Penny Seuren
Can you freeze this cake?
Stacey Hogan
Hi, this cake looks amazing. Does it freeze ok so I can make it in advance? Thank you!
Alana Currie
It was a very beautiful cake!!! The icing makes it. Will definitely make this again!!!