anzac biscuits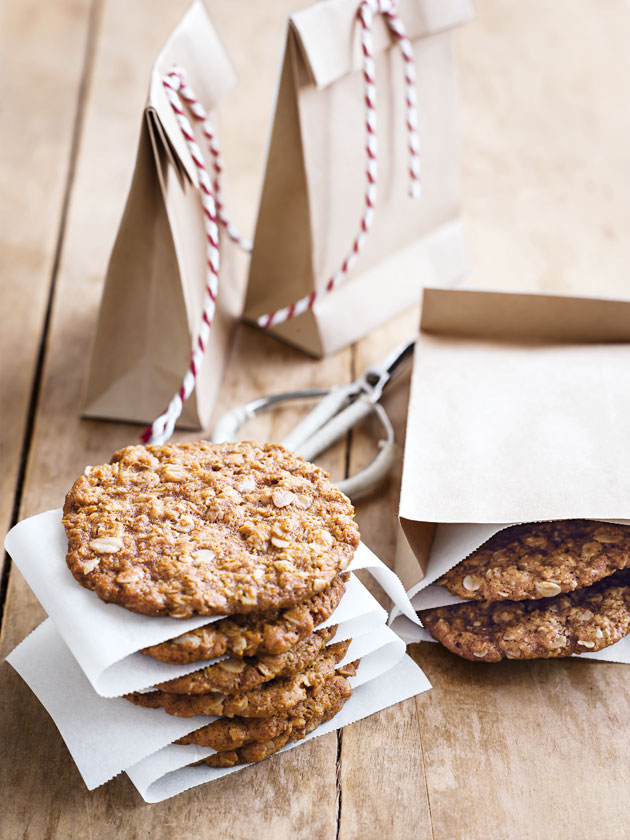 2 cups (180g) rolled oats
1 cup (150g) plain (all-purpose) flour
⅔ cup (150g) caster (superfine) sugar
¾ cup (60g) desiccated coconut
⅓ cup (115g) golden syrup
125g unsalted butter
1 teaspoon bicarbonate of (baking) soda
2 tablespoons hot water
Preheat oven to 160°C (325°F). Place the oats, flour, sugar and coconut in a bowl and mix to combine.
Place the golden syrup and butter in a saucepan over low heat and cook, stirring, until melted. Combine the bicarbonate of soda with the water and add to the butter mixture. Pour into the oat mixture and mix well to combine.
Place tablespoonfuls of the mixture onto baking trays lined with non-stick baking paper and flatten to 7cm rounds, allowing room to spread. Bake for 8–10 minutes or until deep golden. Allow to cool on baking trays for 5 minutes before transferring to wire racks to cool completely. Makes 35.

Cherie Anschau
Yum! These are delicious. Best thing to have with a cup of tea. I cooked mine for 10-12 mins then left them for 10mins to cool down. They hardened up as they cooled down. They were chewy texture and had a crisp base. They are exactly how I wanted them to taste. I found when I was placing the biscuits mixture on to trays before cooking squeezing the mixture firmly before placing on the tray prevented mine from been crumbled.
Thanks for the recipe. I'll be making these again
Cat G
Thankyou Donna. Delicious!.
I cooked mine at 160 fan forced for 10-12min. They are soft when they come out, but as they cool down they become chewy, crunchy and morish all at the same time x
donna hay team
Hi Lizette, the recipe is correct, this version is for a chewy anzac biscuit not the hard crunchy version. The dh team
Lizette Huppelschoten
I made these biscuits yesterday, left them in the baking tray to cool for 5 min then onto a cooling rack. When theh were fully cooled down they were all soft and not crunch but still tasty. What did I do wrong?
Nikky Cassidy
These tasted nice. But using my convection oven which is very small I had to do 3 batches. I burnt my first so I had to watch my other too, checking they did not burn after every few minutes and patting them down flat. They would not stay together either until cooked and cooled. I will be sticking to my usual recipe for these next time.
Janice Kelly
I just baked off your cookies using a 2015 recipe. It's quite different from the one on the webpage. For example, mine calls for 1 cup of oats and the new one is for 2 cups. Hope it's better because the dough doesn't hold together well using the old recipe. Still utterly delicious however. Thanks.
donna hay team
Hi Christine, corn syrup isn't the same as golden syrup. Corn syrup is made from corn and is sold as light or dark. It is thicker in texture and will result in a different bake and a different taste. the DH team
christine campbell
Hi,is it's possible to change golden syrup for maple syrup?And golden syrup is corn syrup?
kyla walton
This biscuits were yum!....nice and chewy on the outside and soft in the middle…also v. simple to make