basque burnt cheesecake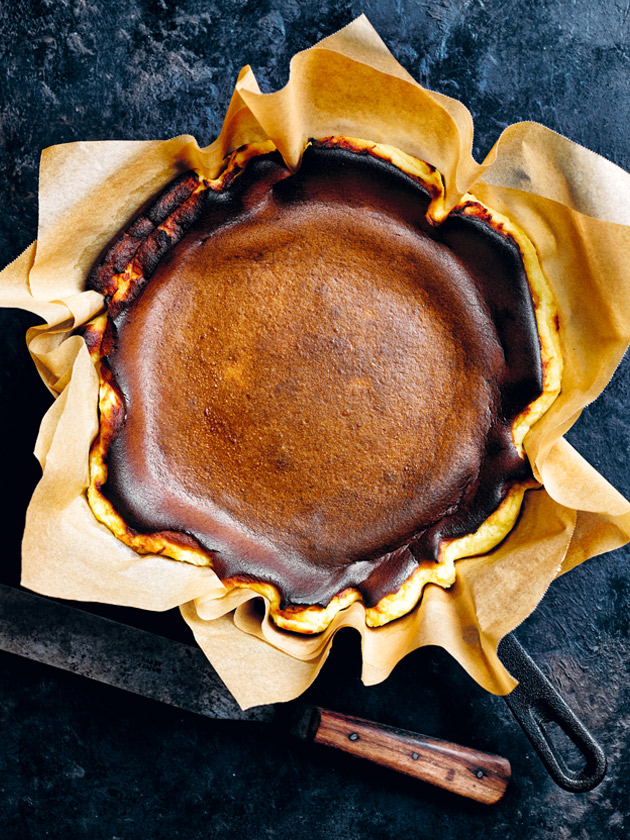 750g (1 lb 6 oz) cream cheese, chopped and softened

1 cup (220g/7¾ oz) caster (superfine) sugar

4 large eggs

1½ cups (375ml/13 fl oz) double (thick) cream

1 teaspoon vanilla bean paste

1½ tablespoons plain (all-purpose) flour

or rice flour
Heat the oven to 220°C (425°F). Line a 22cm (8½ inch) springform pan, with inverted base, or a 22cm (8½ inch) skillet with 3 large pieces of non-stick baking paper overlapping, ensuring paper comes above rim+.
Place the cheese and sugar in the bowl of an electric mixer. Using the whisk attachment, beat until smooth and soft peaks form. Add eggs one at a time, beating after each addition, until combined.

Add cream and vanilla and beat until just combined. Sift in flour and beat, on a low speed, until thick. Pour into the prepared pan and bake for 15 minutes then rotate and cook for a further 10–15 minutes. The cheesecake should rise up like a soufflé and caramelise, almost burning on the top but still have an extreme wiggle in the middle.

Once out of the oven, leave to cool for 1 hour (the cheesecake will sink a bit), then refrigerate until chilled. Serves 10
+ The triple layer of baking paper that comes high above the tin protects the sides from burning.
++ We used one quantity of the cheesecake mixture to make 2 smaller cheesecakes. These were made in 2 x 16cm (6 inch) skillets. Bake for 8 minutes, rotate then cook for a further 10 minutes. We used Lodge Cast Iron skillets from Hale Imports.
Photography: Chris Court
There are no comments for this entry yet.