beef and porcini mushrooms with polenta bake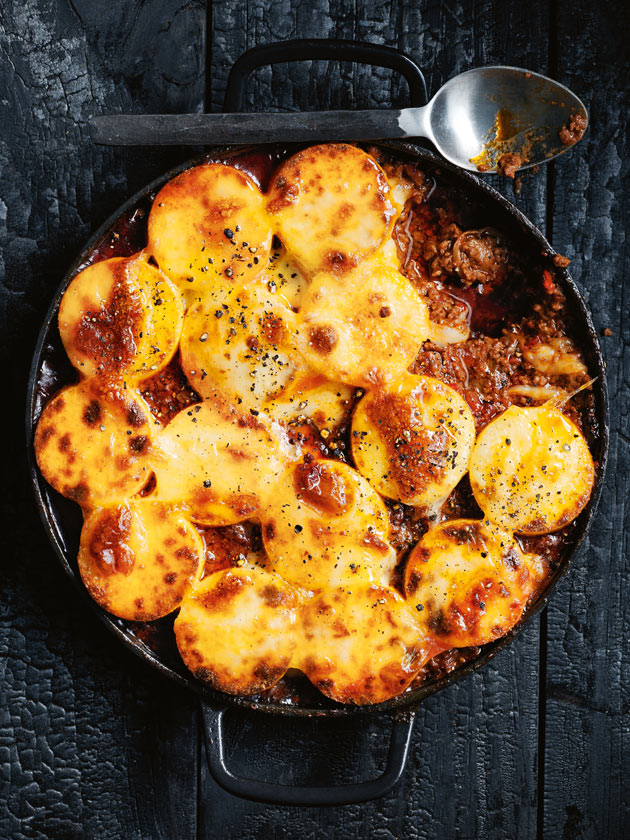 3½ cups (875g) milk

1 cup (170g) polenta

1 cup (80g) finely grated parmesan

sea salt and cracked black pepper

½ cup (20g) dried porcini mushrooms

½ cup (125ml) boiling water

2 tablespoons extra virgin olive oil

1 brown onion, grated

500g beef mince

2 bay leaves

400g can chopped tomatoes

100g mozzarella, sliced

Place the milk in a medium saucepan over medium heat and bring to the boil. Add the polenta in a steady stream and whisk for 2 minutes or until thickened.
Add the parmesan and salt and mix to combine. Spread the polenta onto a 20cm x 30cm tray lined with non-stick baking paper and spread to 1cm thick. Refrigerate for 10 minutes or until set.

Place the mushrooms and boiling water in a jug and set aside for 5 minutes to soak. Heat the oil in a 1.5-litre-capacity heavy-based ovenproof shallow saucepan over high heat. Add the onion, salt and pepper and cook for 4 minutes or until soft.
Add the mince and bay leaves and cook, breaking up the mince with the back of a spoon, for 4 minutes. Add the mushrooms, soaking liquid and tomato. Bring to a simmer and cook for 15 minutes or until reduced. Discard the bay leaves.

Using a 6cm round metal cutter, cut the polenta into 16 pieces. Layer over the top of the beef mixture and top with the mozzarella. Preheat the grill (broiler) to high and cook for 4–6 minutes or until golden and bubbling. Sprinkle with pepper to serve. Serves 4–6.
Vanessa Shortis
Easy filling weeknight pleaser
Tags:
beef
,
crowd-pleasing
,
dinners
,
hearty dinners
,
mince
,
mince recipes
,
parmesan
,
polenta
,
polenta bake
,
porcini mushroom
,
tomatoes
,