classic pavlova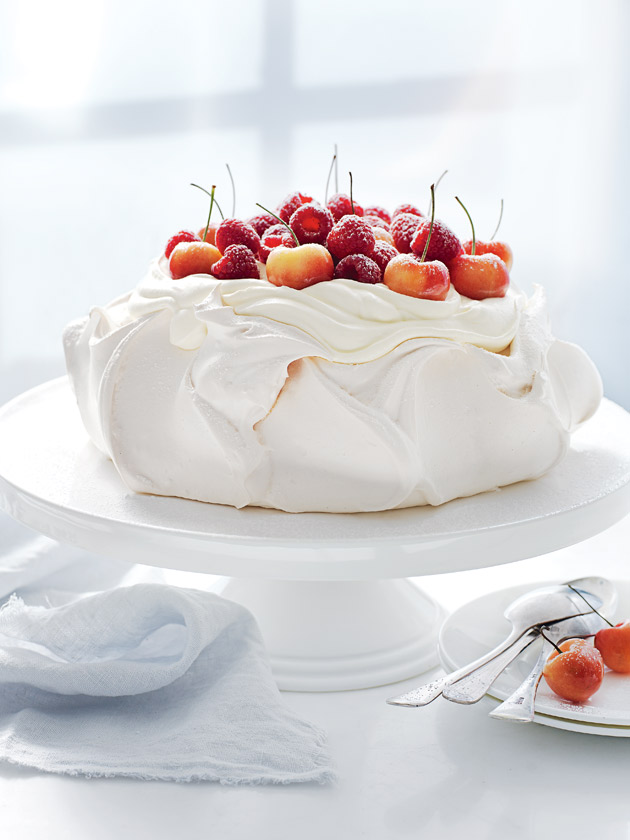 225ml eggwhites (approximately 6 x 60g eggs)

1½ cups (330g) caster (superfine) sugar

1½ teaspoons white vinegar

1½ cups (375ml) single (pouring) cream

1 cup (125g) fresh raspberries

1⅔ cups (250g) white cherries, stems intact

icing (confectioner's) sugar, for dusting

Preheat oven to 150°C (300°F). Place the eggwhite in the bowl of an electric mixer and whisk on high speed until stiff peaks form.

Gradually add the sugar, 1 tablespoon at a time, waiting 30 seconds between each addition. Once all the sugar has been added, scrape down the sides of the bowl with a spatula and whisk for a further 6 minutes or until the mixture is stiff and glossy.

Add the vinegar and whisk for 4 minutes or until glossy and combined.

Pile spoonfuls of the meringue onto a baking tray lined with non-stick baking paper and, using a spatula, shape to form a 20cm mound. Reduce the oven temperature to 120°C (250°F) and bake for 1 hour 30 minutes or until dry and crisp to the touch.

Turn the oven off and allow the pavlova to cool completely in the oven. Place the cream in a bowl and whisk until soft peaks form.

Place the pavlova on a cake stand or plate and top with the cream, raspberries and cherries. Dust with icing sugar to serve. Serves 10

Photography: Chris Court
Pauline O'Shannessy-Dowling
Sarah Foster
This is without fail the BEST pavlova recipe! I also regularly use it for making meringues too! I follow the recipe exactly as written and have never had a failure! For a bigger pav I often double the recipe, cooking times stay the same, Easy peasy!!!
Ann Distefano
Thankyou for confirming the cook time for this classic pavlova- very pleased with result . Second time made in a week, with great feedback from family.
Pity can't upload a photo
donna hay team
Hi Bobby, Yes you can use this recipes to make meringue kisses. Place the mixture in a piping bag fitted with a 2cm star nozzle and pipe 3cm drop shapes onto a large baking tray lined with non-stick baking paper, leaving a little space between meringues to allow them to spread. Cook for 30 minutes or until dry and allow to cool in the oven. Enjoy!
Bobby Haitidis
Hi.
Can you use this same recipe for kisses?
Angel Baraty
I made this for my Canadian in laws in Vancouver they had never had pavlova before and it was a real treat recipe turned out perfectly, very impressed considering I have never made pavlova from scratch, sad to say! This Christmas no more store brought pav! Can never go back! Brilliant recipe made better with the help of my kitchen aid!
Margaret Gillespie
I have made this pav several times now and it is always perfect. I think the trick is the fresh eggs from my own hens. It makes all the difference.
donna hay team
Hi Carol, make sure you incorporate the sugar slowly and to ensure it is completely dissolved. The hour in the oven is important for the pavlova shell to set. Hope that helps! The DH Team.
Carol Bonosaro
Followed all instructions to a T. Left the pavlova in the oven (after one hour, when I had turned off the oven) until serving 4 hours later. All of the exterior broke when I slipped it on a serving plate. My sense is that either 1) it simply stayed too long in the hot oven and would have a better chance of remaining intact if served immediately or 2) one hour was too long for baking to begin with.
donna hay team
Hi Tracey, it is best to keep your pavlova in a dry, cool place. Try storing it in the oven after it has finished cooling and cooking. The DH team x
donna hay team
Hi Eleni, be sure to measure your egg whites, have them at room temperature and add your sugar gradually. If you add it too fast your meringue will not get enough volume and become stiff. If your sugar has not dissolved after adding it all keep whisking until all grains are dissolved. The DH team x
Tracey Corbett
I'd like to make the pavlova shell a few days prior to using it ... how long will it keep in an air-tight container?? Thank you.
Eleni Doumis
I've tried many times but my meringue keeps piling into a flat blob and spreading out into a big disc on the tray, any advice on what I could be doing wrong??? Thanks,
donna hay team
Hi Gwenda, we test all of our recipes in a fan forced oven. You can check if your oven is cooking evenly or is running hot with an oven thermometer. We suggest you follow the cooking times and temperature to make sure your pavlova is cooked. Also, we always use room temperature eggs. The DH team
Gwenda Jeanneret
I have a fan forced oven which browns the pavlova too much even on the lowest setting. If I switch off the fan force and set the oven to 100 degrees, it still browns too much and is raw in the centre at the end of the cooking time. What is the lowest temp at which the egg whites will cook?