beetroot and cumin hummus
with toasted walnuts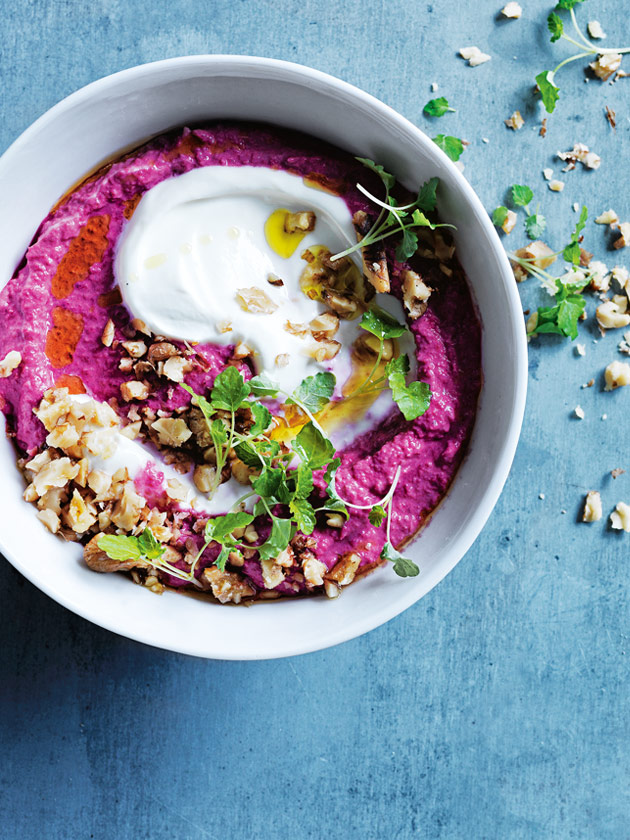 400g can chickpeas (garbanzos), drained and rinsed

1 tablespoon tahini

1 clove garlic, crushed

¼ cup (60ml) lemon juice

225g can baby beetroot, drained

½ teaspoon ground cumin

sea salt and cracked black pepper

¼ cup (70g) natural Greek-style (thick) yoghurt, to serve

¼ cup (25g) walnuts, toasted and chopped, to serve

micro (baby) lemon balm leaves (optional), to serve

extra virgin olive oil, for drizzling

Place the chickpeas, tahini, garlic, lemon juice, beetroot, cumin, salt and pepper in a food processor and process until smooth.

Place in a serving bowl and top with the yoghurt, walnuts and lemon balm, if using.

Drizzle with oil to serve. Makes 1½ cups.

Tracey Lougheed
Delicious, Instead of canned I finely grated raw beetroot into the mixture, yum!