cherry tarte tatin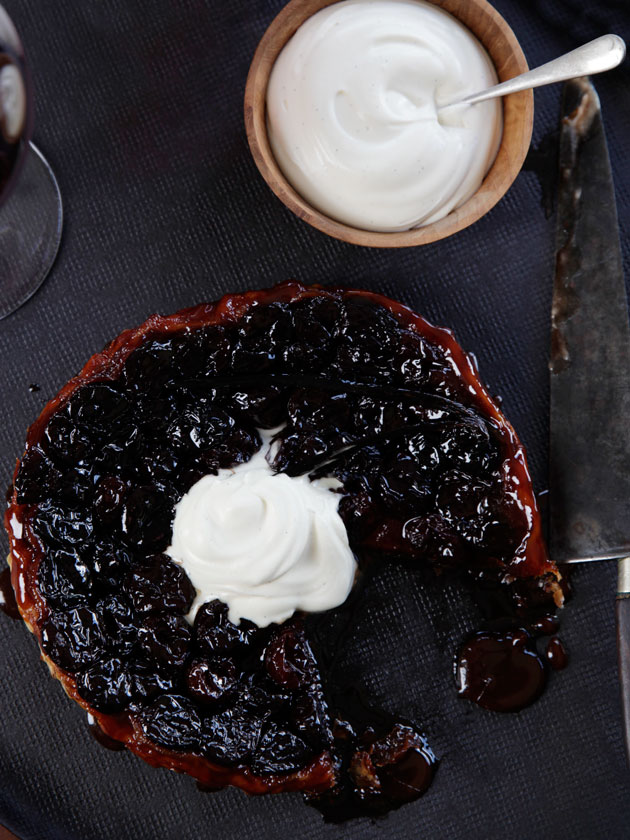 4 cups (500g) frozen cherries, thawed on paper towel

⅓ cup (115g) honey

1 vanilla bean, split and seeds scraped

50g unsalted butter, chopped

2 sheets frozen puff pastry, thawed

vanilla mascarpone cream
1 cup (250ml) single (pouring) cream

1 cup (250g) mascarpone

1 teaspoon vanilla bean paste

Preheat oven to 180°C (350°F). Place the cherries, honey and vanilla in an 18cm non-stick ovenproof frying pan over high heat. Cook, stirring occasionally, for 10–12 minutes or until liquid is reduced and slightly sticky.
Remove from the heat, add the butter and stir to combine until butter is melted. Remove the vanilla bean.

Place the pastry sheets together and press to form 1 thick sheet. Using a plate as a guide, cut out a 25cm circle. Place the pastry on top of the cherry mixture, tucking the edges underneath the fruit.
Using a sharp knife, make 3 small cuts in the centre of the pastry. Place the frying pan on a baking tray and cook in the oven for 30–35 minutes or until pastry is puffed and golden. Set aside for 10 minutes to cool slightly before carefully turning out onto a serving platter.

While the tart is cooling, make the vanilla mascarpone cream. Place the cream, mascarpone and vanilla bean paste in a large bowl and whisk until thickened. Serve the warm tart with the whipped vanilla cream. Serves 4.

Wine note: we paired this delicious dessert with the Cloudy Bay Pinot Noir, 2014.
Lea Genlik
Do you need to use frozen cherries for this or can fresh cherries be used? Does the method need to change in any way if fresh cherries are used?