chocolate and maple banana cake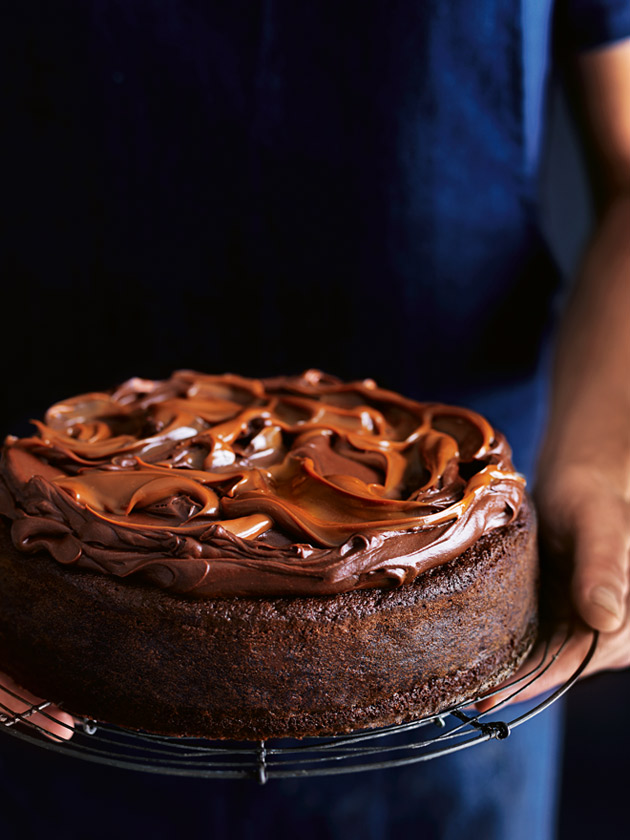 250g unsalted butter, chopped

2¼ cups (335g) self-raising (self-rising) flour, sifted

½ cup (50g) cocoa powder, sifted

1 teaspoon bicarbonate of (baking) soda, sifted

1 cup (220g) caster (superfine) sugar

¾ cup (135g) light brown sugar

⅓ cup (80ml) maple syrup

4 eggs

1 cup (260g) mashed banana (about 3 bananas)

1½ cups (375ml) milk

½ cup (150g) store-bought thick caramel or dulce de leche
quick dark chocolate ganache
1 cup (240g) sour cream

200g dark chocolate, melted

Preheat oven to 180°C (350°F). Line a 24cm round springform tin with non-stick baking paper. Place the butter in a large non-stick frying pan over high heat. Cook, stirring, for 5 minutes or until melted and nutty brown in colour. Transfer to a large bowl. Add the flour cocoa, bicarbonate of soda, both the sugars, the maple syrup, eggs, banana and milk and whisk until smooth. Bake for 1 hour 10 minutes or until cooked when tested with a skewer. Allow to cool in the tin for 10 minutes before turning out onto a wire rack to cool completely.
To make the quick dark chocolate ganache, placethe sour cream and chocolate in a large bowl and whiskuntil smooth and combined.

Place the cake on a cake stand or plate and spread with the ganache. Spoon the caramel over the top and swirl gently to serve. Serves 10–12

Photography: William Meppem
donna hay team
Hi Cecilia, you can substitute the maple syrup with a darker agave syrup. The DH Team.
Cecilia Amigo
Hi. How can I substitute the Maple syrup? It's not available where I live
donna hay team
Hi, Melissa. Thanks for your question! Baking cakes in bundt tins changes the cooking time, so you might need to do a few tests to see if it works. The DH Team.
Melissa Hamblin Biggs
Any idea if this would work as a bundt cake?
donna hay team
Hi Caela, yes of course! Good luck!! the dh team
Caela Witherdin
Hi there, I'd like to attempt this for my daughters 2nd bday. Mainly adults in attendance. But i want to know if I could ice it with cream cheese icing instead? In case I want to add sprinkles or some colour for the toddler component? Thanks
Lisa Flanagan
I made this cake last week for work and it was fantastic. I did half the recipe with no worries. Will make this again.