simple banana bread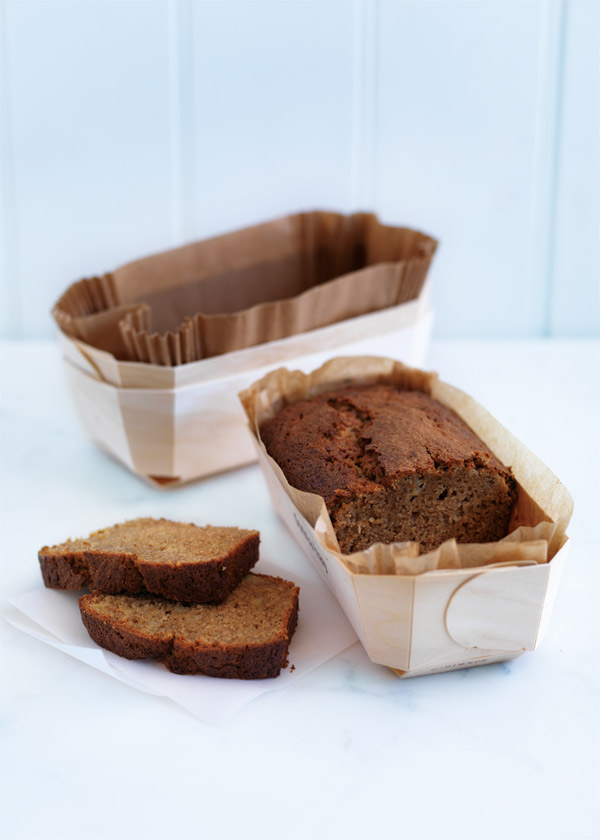 4 medium ripe bananas (800g), peeled and chopped
½ cup (125ml) light olive oil or vegetable oil
3 eggs, lightly beaten
1½ cups (260g) brown sugar
1 teaspoon vanilla extract
1½ cups (225g) self raising (self-raising) flour, sifted
1 teaspoon ground cinnamon
Preheat oven to 160°C (325°F). Place the bananas in a medium bowl and mash with a fork. Add the oil, eggs, sugar and vanilla and whisk to combine.

Add the flour and cinnamon and mix to combine. Pour into a lightly greased 25cm x 11cm loaf pan (see note, below) lined with non-stick baking paper and bake for 1 hour and 10 minutes, or until a skewer inserted comes out clean.

Allow to cool for 5 minutes, before turning out onto a wire rack to cool completely. Serves 8–10.

+ We have used the large deep rectangular French wooden baking tray, available from the donna hay online store.
Lina Felter
This is the best banana recipe ever and ultimate comfort food.
We made this countless times and it is still our family's favourite. All overripe bananas end up in this bread. I experimented with various oils and the best one so far is grapeseed oil.
Also for me it tastes much better with regular flour mixed with 2 tsp of baking powder added rather than with self raising. As bananas are usually super sweet , i only use half the amount of sugar , dark brown or coconut. Sometimes I add raisins or walnuts. Every time this bread comes out delicious.
Antonietta Krlevski
Absolutely delicious and makes the entire house smell wonderful. Just wondering what is the best way to store?
Lauren White
Makes a beautiful loaf and so simple to make! Super moist and tasty!
Jacqui Gillis
I add some walnuts and blueberries to mine. Delicious
Elaina Chandler
Made this today, easy recipe and beautiful and moist. Will definately bake this again!
Matt Streten
Simple! 15 minute mix, basic ingredients, awesome output, once cool, slice, toast and whisk & spread some mascarpone then add summer fruits!
Suzanne Gittoes
Simple easy and tastes wonderful!