almond pancakes
with spiced almond butter and maple syrup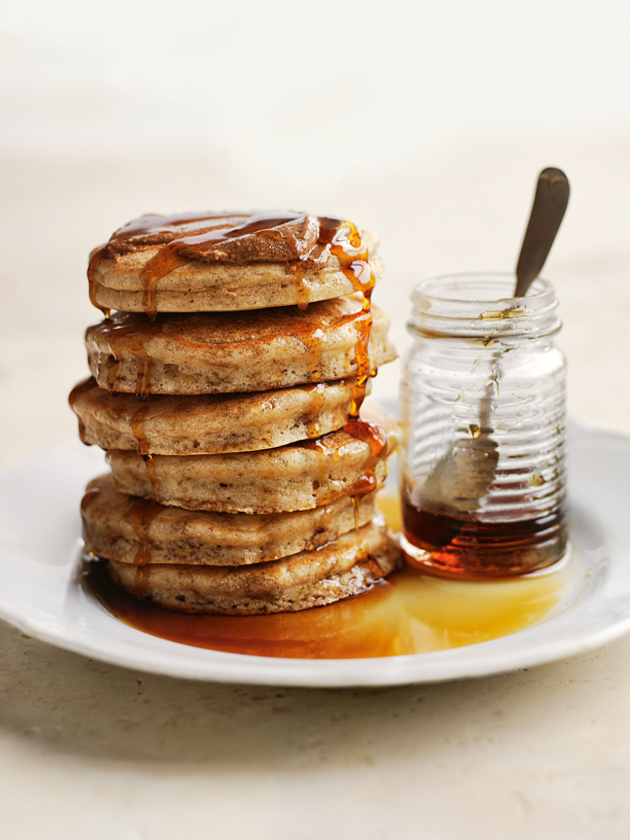 1½ cups (225g) self raising (self-rising) flour

1 cup (120g) almond meal (ground almonds)

½ teaspoon bicarbonate of (baking) soda

½ cup (115g) raw caster (superfine) sugar

4 eggs, separated

1½ cups (375ml) almond milk

vegetable oil, for brushing

spiced almond butter, to serve

maple syrup, to serve

Place the flour, almond meal, bicarbonate of soda and sugar in a large bowl and whisk to combine. Make a well in the centre, add the egg yolks and almond milk and whisk to combine.
Place the eggwhites in a clean bowl and whisk until soft peaks form. In 2 batches, add the eggwhite to the almond mixture and gently fold to combine.
Preheat a large non-stick frying pan over medium heat. Reduce the temperature to low and brush the pan with oil. Add ¼ cup (60ml) of the batter and cook for 2–3 minutes each side or until puffed and golden. Remove from the pan and keep warm.
Repeat with the remaining batter. Divide the pancakes between serving plates and top with almond butter and maple syrup to serve. Serves 4.
There are no comments for this entry yet.