coriander and cabbage fritter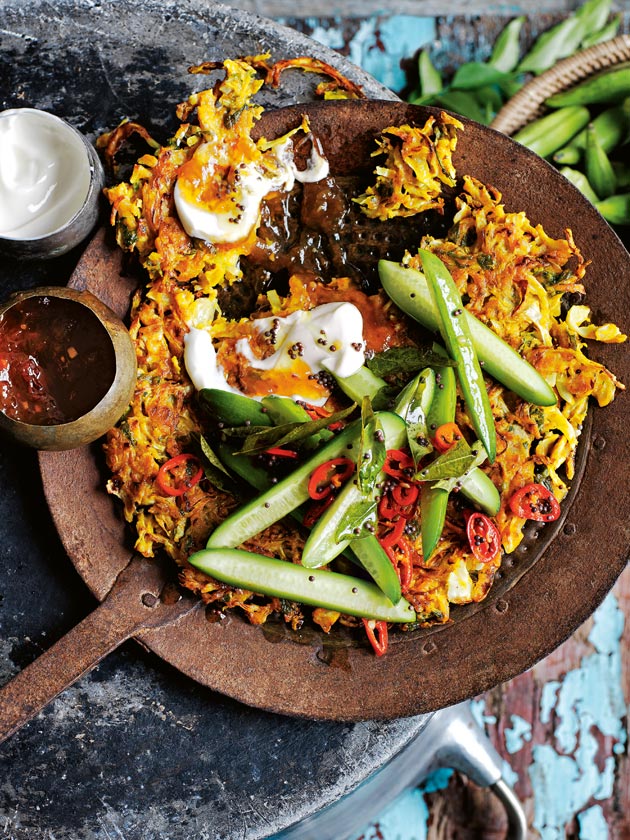 3 cups (240g) shredded white cabbage

1 cup coriander (cilantro) leaves, chopped

½ cup (70g) chickpea (garbanzo bean) flour+

1 tablespoon rice flour

2 teaspoons ground coriander

1 teaspoon ground turmeric

sea salt and cracked black pepper

½ cup (125ml) soda water

1 tablespoon lime juice

1 tablespoon extra virgin olive oil
store-bought mango chutney,
to serve

chilli and curry leaf oil with cucumber spears and yoghurt
⅓ cup (80ml) extra virgin olive oil

2 teaspoons brown mustard seeds

1 long red chilli, thinly sliced

12 curry leaves

250g cukes (baby cucumbers), halved

1 cup (280g) natural Greek-style (thick) yoghurt

sea salt and cracked black pepper,
to serve

To make the chilli and curry leaf oil, place the oil, mustard seeds, chilli and curry leaves in a small saucepan over medium heat and cook for 3–4 minutes or until the oil is warmed and the curry leaves are crisp. Spoon over the cukes and yoghurt and sprinkle with salt and pepper to serve.
Place the cabbage, coriander, chickpea flour, rice flour, ground coriander, turmeric, salt, pepper, soda water and lime juice in a large bowl and mix to combine. Heat the oil in a large non-stick frying pan over high heat. Press mixture into the pan and cook for 5–6 minutes. Place a plate over the pan, carefully turn out fritter and flip over. Return to pan and cook for a further 5–6 minutes or until golden brown and cooked through. Serve with the chilli and curry leaf oil, cucumber and yoghurt, and chutney. Serves 4 as a side.
+ Chickpea flour is also known as besan and can be found in the international aisle of some supermarkets or in specialty stores.
There are no comments for this entry yet.