crispy pancetta and zucchini slice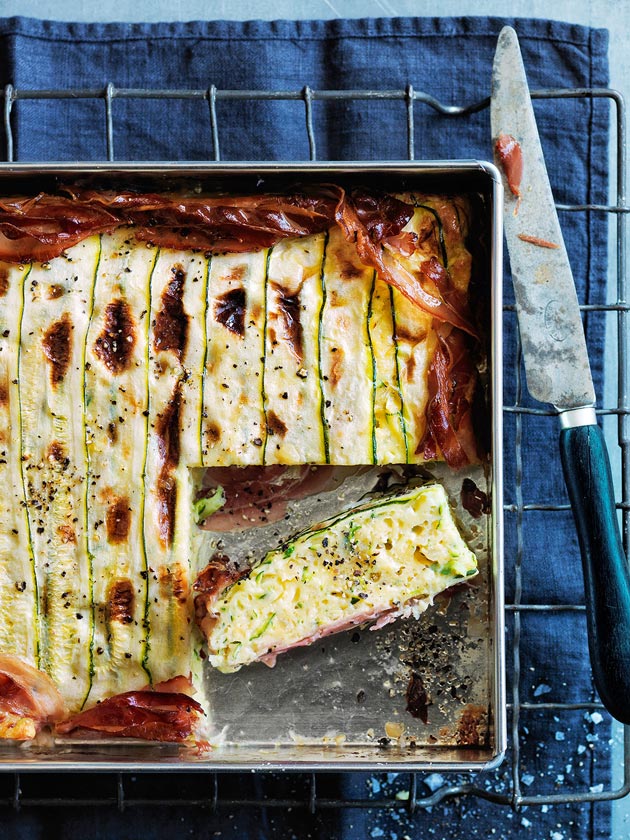 1 tablespoon extra virgin olive oil, plus extra for brushing
1 onion, finely chopped
2 cloves garlic, crushed
3 (450g) zucchini (courgette), grated, plus 1 extra, peeled into long ribbons
1 cup (240g) fresh ricotta
½ cup (40g) finely grated parmesan
¼ cup chopped chives
sea salt and cracked black pepper
6 eggs
1 cup (150g) self-raising (self-rising) flour, sifted
14 thin slices round pancetta
Preheat oven to 200°C (400°F). Heat the oil in a large non-stick frying pan over high heat. Add the onion and garlic and cook for 5 minutes or until light golden.
Transfer mixture to a large bowl and add the zucchini, ricotta, parmesan, chives, salt and pepper, and mix to combine. Add the eggs and flour and mix well to combine.
Line a lightly greased 20cm x 30cm tin with pancetta slices, with 3cm excess overhanging. Spoon in the zucchini mixture and smooth with a palette knife.
Lay the zucchini ribbons on top, brush with oil and sprinkle with salt and pepper. Fold over the excess pancetta to enclose. Cook for 30–35 minutes or until golden and cooked through. Cut into slices to serve. Serves 8–10.
There are no comments for this entry yet.
RELATED VIDEO