egg, pancetta and gruyere breakfast bread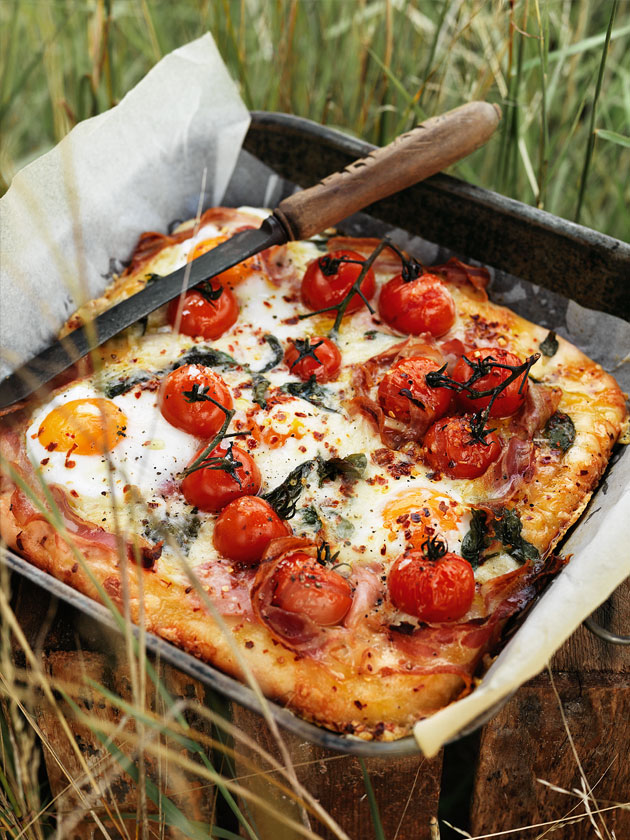 1¼ teaspoons dry yeast
1 teaspoon caster (superfine) sugar
⅔ cup (160ml) warm water
1½ cups (225g) 00 flour+, plus extra, for dusting
1 teaspoon table salt
½ tablespoon olive oil, plus extra, for drizzling
4 eggs
8 slices rolled pancetta
250g truss cherry tomatoes
1 cup (100g) grated gruyère++
1 teaspoon dried chilli flakes
⅓ cup basil leaves
Preheat oven to 220°C (425°F). Place the yeast, sugar and water in a bowl and set aside in a warm place for 5 minutes or until bubbles appear on the surface. Place the flour, salt and olive oil in a large bowl and mix to combine. Add the yeast mixture and bring together to form a dough. Turn out onto a lightly floured surface and knead for 5 minutes or until smooth and elastic. Place in a large bowl, cover with a clean tea towel and set aside in a warm place for 15–20 minutes.
Roll the dough out on a lightly floured surface to make a 25cm square. Transfer to a deep-sided 25cm-square baking tray lined with non-stick baking paper and push dough into the edges. Crack the eggs onto the dough and top with the pancetta and tomatoes. Sprinkle with the cheese, chilli flakes and basil. Drizzle with olive oil and bake for 12–14 minutes or until golden. Serves 6–8
TIPS + TRICKS:
+ OO flour is a superfine flour that makes for soft and stretchy dough. It's available from the baking aisle of most supermarkets.
++ Gruyère is a Swiss-style, hard cow's milk cheese with a subtle flavour. It's available from supermarkets and delicatessens.
Kym Little
Soo easy & very tasty…made it for Father's day breakfast then used the leftovers for the base of our Sunday night Croque Monsieur snack.