fluffy pancakes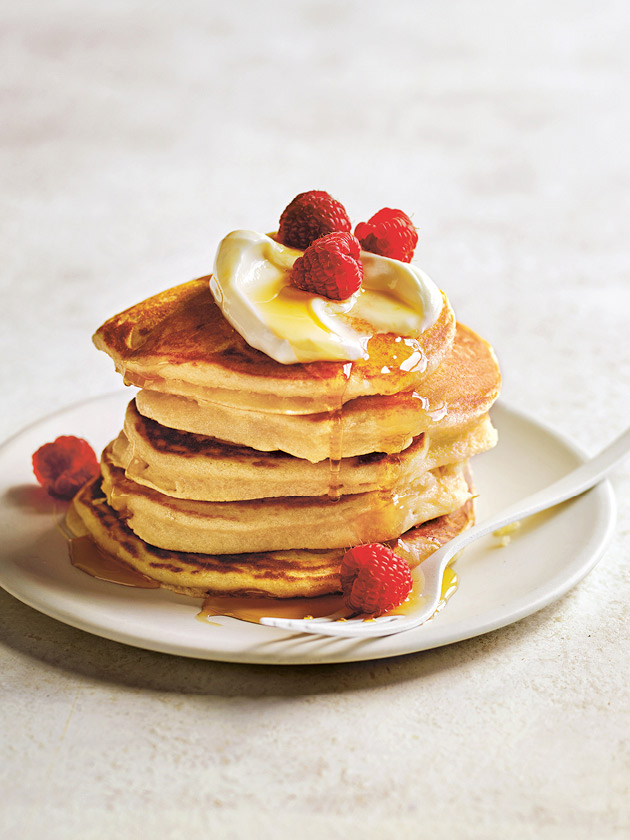 1⅓ cups (175g) white spelt flour

1 tablespoon baking powder

¼ cup (55g) caster (superfine) sugar

1 egg

1 cup (250ml) milk

2 teaspoons vanilla extract (my secret trick)

40g unsalted butter, melted

Place the flour, baking powder and sugar in a big bowl and mix to combine, using a whisk.

Break the egg into a medium jug. Add the milk, vanilla and melted butter and whisk to combine.

Using a spoon, dig a well in the centre of the flour mixture. Pour the egg mixture into the well, then whisk it all together to make a smooth batter.

Heat a large, lightly greased non-stick frying pan over medium heat. Using a ladle or a cup, add about ¼ cup (60ml) of the batter to the pan for each pancake (you can cook 2–3 at a time, just leave yourself enough space for flipping). Cook pancakes for 1–2 minutes each side or until they're golden, using a turner to flip them.

Stack and serve the pancakes warm from the pan with some natural yoghurt, maple syrup and berries (or your own favourite toppings). Makes 8

Photography: Chris Court
Courtney Dovern
I have made these omitting the egg and replacing with soda water as a substitute. They still stay nice and fluffy.
donna hay team
Hi Michael, yes, you can substitute spelt flour for plain flour if you prefer, and just use the same quantity. Enjoy!
donna hay team
Hi Lori, so glad you love these as much as we do! Unfortunately we do not have any pancake recipes without egg as the egg helps pancakes stay nice and fluffy.
Michael Cheong peck keong
Is there a substitute for spelt flour ? Can I use all purpose flour with the same quantity ?
lori watson
They are amazing., thank you Donna.
I only trust your recipes due to your thorough testing.
Do you have an eggless pancake recipe?
Carli Prestia Thompson
These Pancakes Were So Yum,
I could have them every day for breakfast!
Ethan Wainwright
So simple & so delicious! A must try for a lazy Sunday.