granola bowls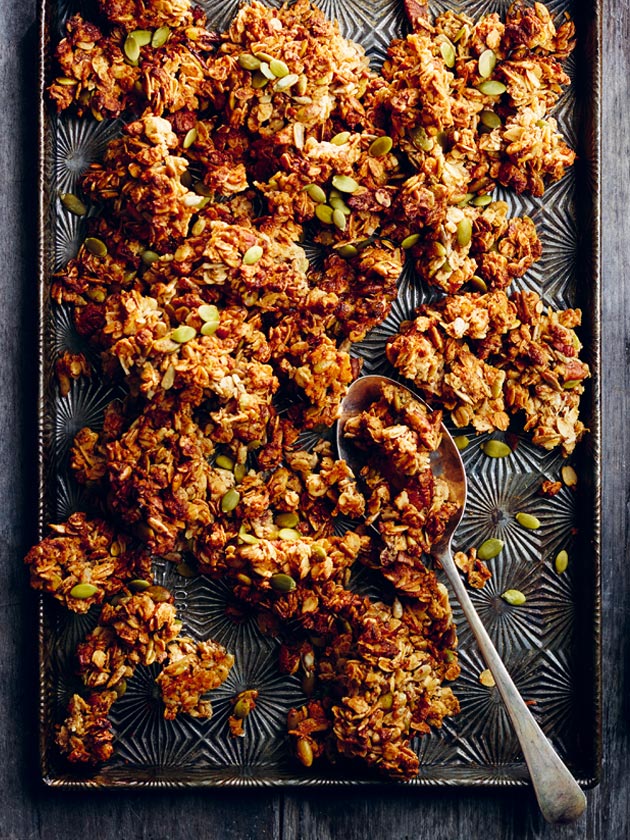 1½ cups (135g) rolled oats (see tips and tricks)
⅔ cup (80g) pecans or walnuts, finely chopped
1 cup (120g) almond meal (ground almonds)
½ cup (80g) pepitas (pumpkin seeds)
½ cup (80g) sunflower seeds
½ cup (40g) shredded coconut
1 teaspoon ground cinnamon
⅓ cup (80ml) maple syrup
¼ cup (60ml) extra virgin olive oil
2 teaspoons vanilla extract
blueberries and yoghurt, to serve
Preheat oven to 180°C (350°F). Place the oats, pecans, almond meal, pepitas, sunflower seeds, coconut and cinnamon in a large bowl and mix to combine. Add the maple syrup, oil and vanilla and mix gently to coat.
Divide the mixture between 2 baking trays and spread evenly. Bake for 15 minutes. Stir the mixture and bake for a further 10–15 minutes or until the granola is golden and crunchy. Allow to cool on the trays. Makes 1 quantity
tips and tricks
+ If you'd like to make a gluten-free granola, swap the regular rolled oats for gluten-free oats. These are available at specialty food stores and health food shops – just be sure to check the labels.
+ This recipe makes about 9 cups of granola. Store it in an airtight container to snack on or serve it for breakfast with blueberries and yoghurt.
There are no comments for this entry yet.