kimchi pancakes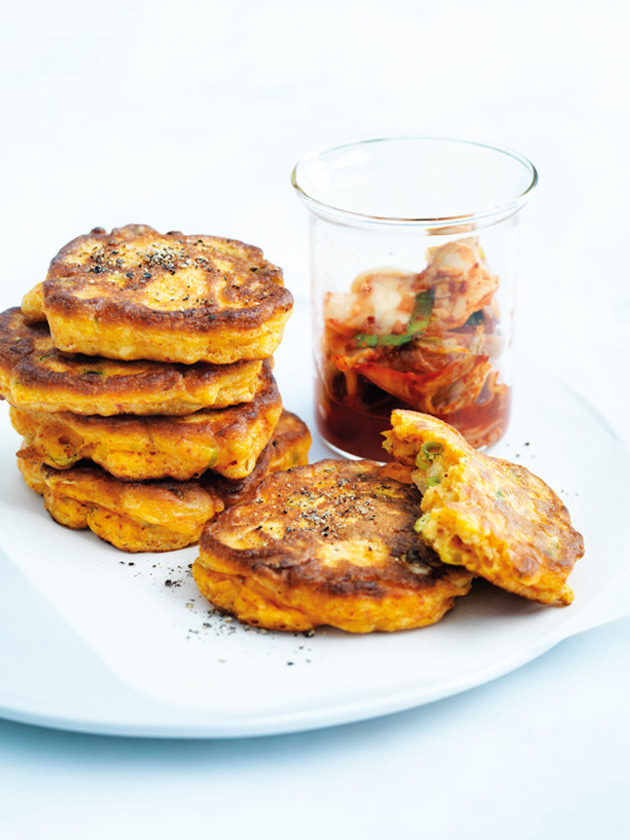 1¼ cups (185g) self raising (self-rising) flour
2 eggs
⅔ cup (160ml) buttermilk
1 tablespoon fish sauce
1½ cups (420g) kimchi (see tip), chopped
2 green onions (scallions), sliced
2 tablespoons vegetable oil
kimchi, extra, to serve

Place the flour, eggs, buttermilk and fish sauce in a large bowl and whisk to combine. Add the kimchi and onion and mix well to combine.
Heat 1 tablespoon of the oil in a large non-stick frying pan over medium heat. In batches, cook 2 tablespoons of the mixture for 2 minutes each side, or until golden brown and cooked through, adding the remaining oil as necessary. Serve the pancakes with the extra kimchi. Makes 12.

Tip: You can find ready-made kimchi at Asian supermarkets and grocery stores.
donna hay team
Hi Maggie, Yes, you could freeze these pancakes after they are cooked. Enjoy!
Maggie Lahey
I absolutely love these kimchi pancakes - so easy and delicious. Is it possible, once cooked, to freeze pancakes?