plum, raspberry and vanilla jam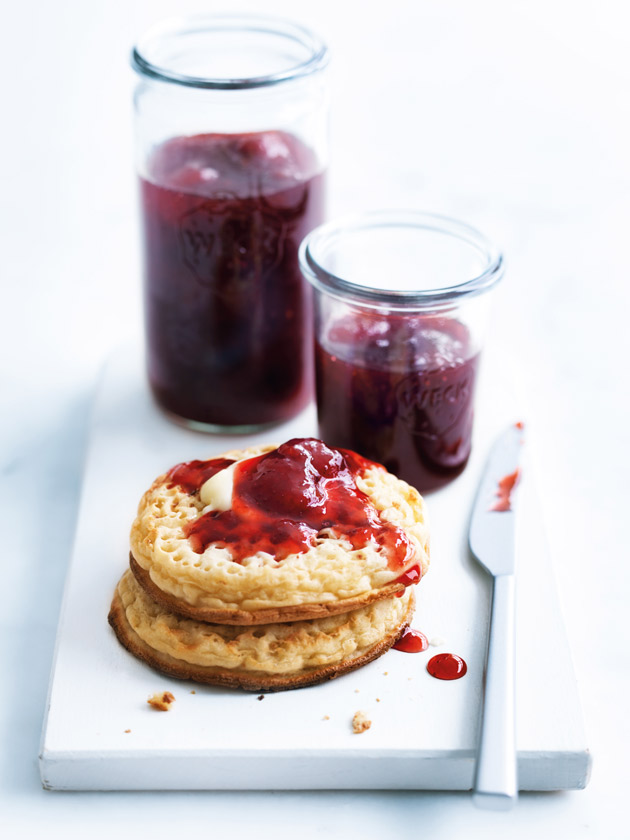 1.5kg plums, stones removed and quartered

5 cups (1.1kg) caster sugar

½ cup (125ml) lemon juice

1 vanilla bean, split and seeds scraped

250g raspberries

butter and store-bought crumpets, toasted, to serve

Place the plums, sugar, lemon juice, vanilla bean and raspberries in a large pot and mix to combine.
Bring to the boil over medium heat, stirring until the sugar has dissolved. Reduce to a simmer and cook, stirring occasionally and skimming off surface foam, for 35–40 minutes or until the jam has thickened+.

Carefully pour the hot jam into sterilised jars+ and seal. Serve with the butter on toasted crumpets. Makes 6 cups.

+ To test whether the jam is ready, place a spoonful of the jam on a cold saucer (place the saucer in the freezer to cool). Run your finger through the jam – if the line remains, the jam is ready.
++ To sterilise jars, wash jars and lids in hot soapy water and rinse. Place the jars and lids upside down on a baking tray lined with a clean tea towel and place in a preheated 100°C oven for 15 minutes, or until dry.
Tip: Store sealed jam in a cool, dark place for up to 18 months and, once opened, in the refrigerator for up to 12 months.
There are no comments for this entry yet.