quinoa seed and nut bread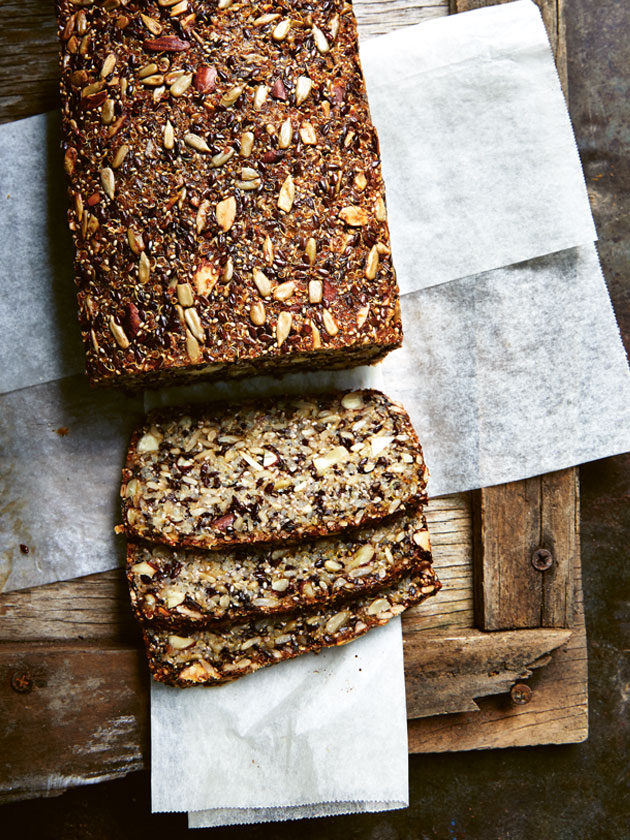 ¼ cup (50g/1¾ oz) chia seeds

¼ cup (20g/¾ oz) psyllium husks

2 cups (320g/11¼ oz) cooked quinoa

1½ cups (375ml/12½ fl

oz) water

1 cup (160g/5½ oz) sunflower seeds

½ cup (80g/2¾ oz) flaxseeds (linseeds)

¾ cup (120g/4¼ oz) roughly chopped almonds

¼ cup (60ml/2 fl

oz) extra virgin olive oil

2 tablespoons maple syrup

½ teaspoon sea salt flakes
Preheat oven to 160°C (325°F). Line a 10cm x 21cm (4 in x 8 in) loaf tin with non-stick baking paper.

Place the chia seeds, psyllium husks, quinoa and

water in a large bowl and mix to combine. Allow to stand for 15 minutes.

Add the sunflower seeds, linseeds, almonds, oil,

maple syrup and salt and mix well to combine. Pour the mixture into the tin.

Bake for 1 hour 30 minutes or until firm to the

touch. Allow to cool in the tin before turning out and slicing to serve. Makes 1 loaf
COOK'S NOTE:
+ This is bread, but not as we know it! Gluten free and literally packed with good things, it's a great way to get your daily dose of seeds and nuts. Top generously with avocado or nut butter, or serve slices with soup.
+ Store this loaf in the fridge for up to 5 days. You can also slice and freeze it for whenever you need.
Photography: Con Poulos
There are no comments for this entry yet.