raspberry and lemon friands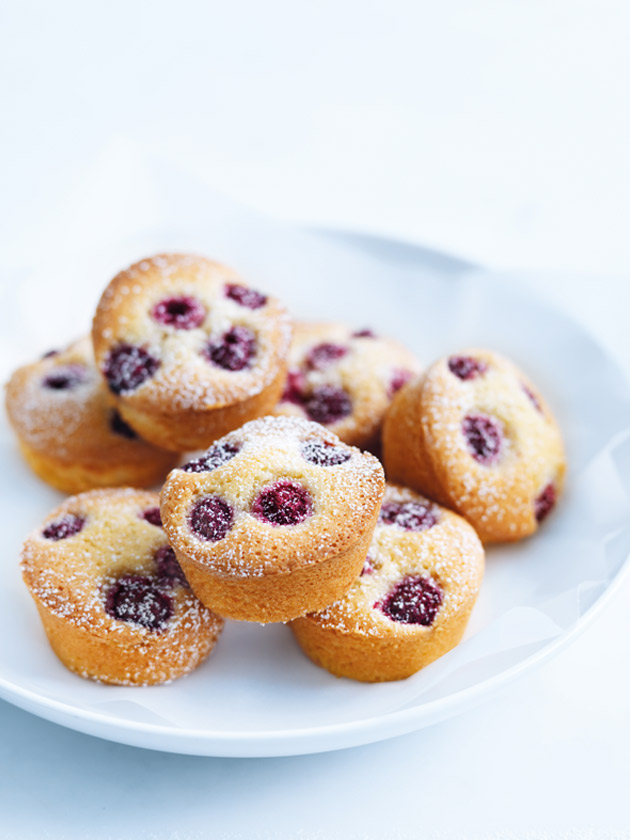 1 cup (120g) almond meal

1⅔ cups (260g) pure icing sugar, sifted, plus extra, for dusting

3⁄4 cup (95g) gluten-free flour+, sifted

½ teaspoon baking powder, sifted

5 eggwhites

125g unsalted butter, melted

1 tablespoon finely grated lemon rind

1½ cups (180g) frozen raspberries

Preheat oven to 160°C. Place the almond meal, sugar, flour, baking powder, eggwhites, butter and lemon rind in a large bowl and whisk to combine.
Spoon the mixture into a lightly greased 12 x ½-cup-capacity (125ml) cupcake tin. Top with the raspberries and bake for 30–35 minutes or until cooked when tested with a skewer.
Remove from the tins and place on a wire rack to cool. Dust with the extra icing sugar to serve. Makes 12.

+ You can find gluten-free flour in the health-food aisle of the supermarket.
Tip: Store the friands in an airtight container for up to 1 week.
donna hay team
Hi Deanna, We use gluten-free plain flour. Happy baking! DH Team
Deanna Darman
Do you use gluten free self-rising flour or plain flour?
Elise Jeffery
Mine really stuck too! they couldn't be saved. has to use cupcake wrappers to salvage the rest of the batter.
donna hay team
Hi, Wies. We suggest you remove them while the friands are still warm and not completely cold. Hope this helps! The DH Team.
Wies Westbroek
I can't get the cakes out of the tin easily. I did grease the tin very well, but they really stick. Maybe I made a mistake in removing them from the tin after they cooled down. Should I've removed them right away out of the oven?
Sharon Alexander
These are outstanding! More delectable than a muffin, less pedestrian than a cupcake-perfect with coffee or tea!