roast vegetable frittata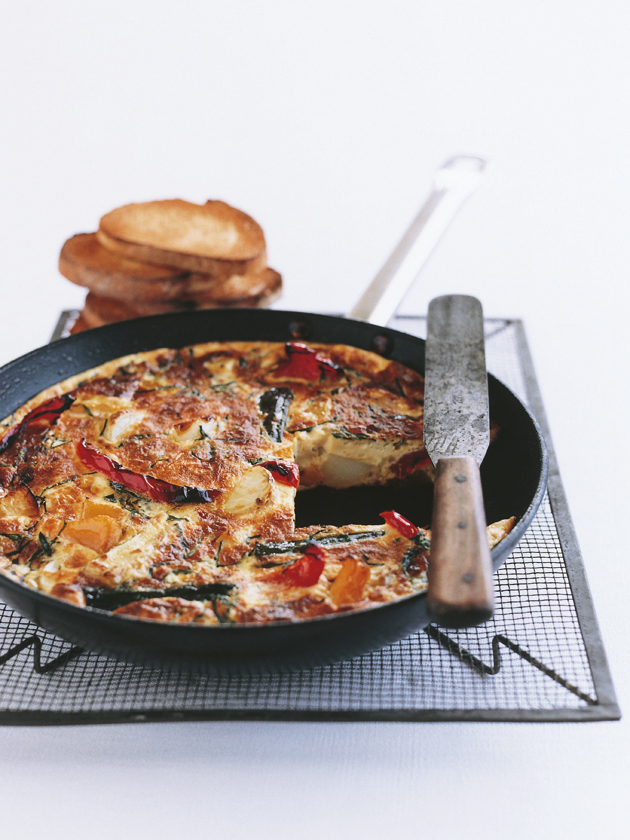 600g sweet potato (kumara) or pumpkin, peeled and chopped
1 red capsicum (bell pepper), cut into eight pieces
2 zucchini (courgettes), quartered
4 baby new potatoes, quartered
olive oil and sea salt for sprinkling
frittata mix
6 eggs
1 cup (250ml) single (pouring) cream
½ cup grated aged cheddar or parmesan cheese
2 tablespoons shredded basil
cracked black pepper

Preheat the oven to 180°C (350°F). Place the sweet potato or pumpkin, capsicum, zucchini and potatoes on a baking tray lined with non-stick baking paper. Drizzle with oil and sprinkle with salt. Bake for 40 minutes or until soft and golden.

Place the vegetables in a 20 cm (8 in) non-stick frying pan. To make the frittata, whisk together the eggs, cream, cheese, basil and pepper.

Pour over the vegetables in the frying pan and cook over low heat for 8–10 minutes or until the frittata begins to set. Place the frittata under a preheated hot grill (broiler) and cook for 2 minutes or until golden.

Allow to stand for 5 minutes before slicing into thick wedges. Serve immediately with a simple salad or toast. Serves 4–6.

Tip: Other combinations of cooked vegetables can be used to make frittata – char-grilled eggplant (aubergine) and mushrooms work really well. You can also use leftover roast vegetables and add ingredients such as chopped cooked chicken, drained canned tuna, other kinds of hard cheeses and fresh herbs.
Alex McCullie
I followed your recipe tonight for my first ever frittata and it worked very well. My partner have it the thumbs up. Thank you.
donna hay team
Hi Anna, yes of course but the cooking time might vary - if you have an oven proof frying pan you can use that. The DH team x
Anna Searle
Hello, wondering if I could successfully make this in a cake tin and bake in the oven?
Cherie Parkes
Hi I made this for tea and it was delicious I added bacon and garlic . Will definitely make this again. Thank-you
donna hay team
Hi Claire, this recipe serves 4-6 people. Happy cooking!
Claire Petitjean
Hi. How many serves is this recipe for? Thank you!