smashed egg, gravlax and
pickled onion on rye bread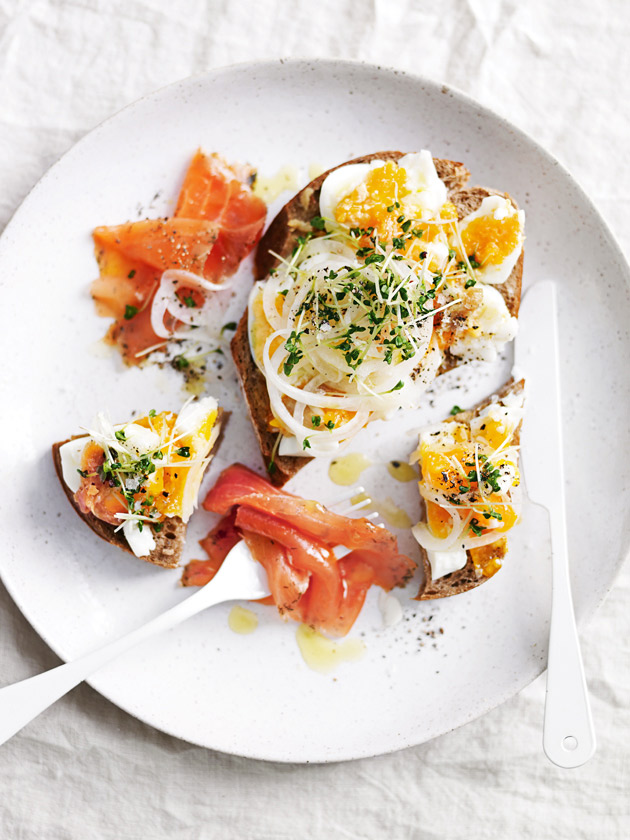 1 bulb garlic, halved

2 tablespoons extra virgin olive oil

6 eggs

sea salt and cracked black pepper

4 slices rye bread, toasted

50g mustard cress leaves

500g store-bought gravlax or smoked salmon

quick pickled onion
1 tablespoon caster (superfine) sugar

2 tablespoons white balsamic vinegar

1 small white onion, thinly sliced

Preheat oven to 200°C (400°F). Place the garlic on a piece of aluminium foil and drizzle with 1 tablespoon of the oil. Wrap tightly in the foil, place on an oven tray and cook for 20 minutes or until golden and soft. Set aside to cool slightly before squeezing out the flesh into a medium bowl.

While the garlic is cooking, make the pickled onion. Place the sugar and vinegar in a medium bowl and whisk until the sugar has dissolved. Add the onion, toss to combine and set aside to pickle for 5 minutes.

Place the eggs in a medium saucepan, cover with cold water and place over high heat. Bring to the boil and cook for 1 minute+. Remove, drain and rinse under cold water. Peel the eggs and place in the bowl with the garlic. Add the remaining oil, salt and pepper and smash together with a fork.

Top the bread with the egg mixture, pickled onion and mustard cress. Sprinkle with pepper and serve with the gravlax. Serves 4.

+ Cooking the egg for 1 minute will give you an egg yolk that is still slightly runny. For hard-cooked eggs, cook for 2 minutes.
There are no comments for this entry yet.