zucchini flower slice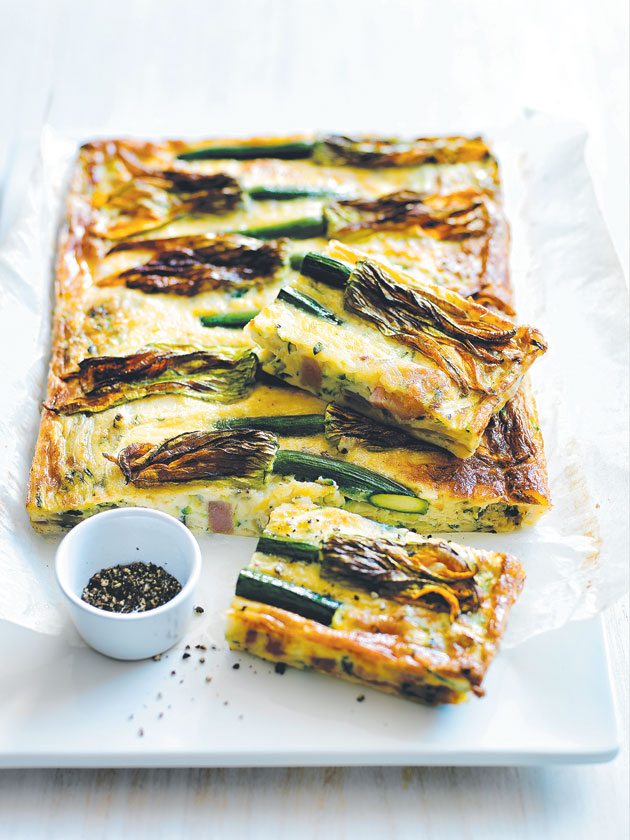 1 tablespoon extra virgin olive oil
200g flat pancetta or bacon, chopped
1 white onion, sliced
1 cup (180g) grated zucchini
1 tablespoon chopped lemon thyme
8 eggs
1 cup (250ml) single (pouring) cream
1 cup (125g) finely grated gruyère
sea salt and cracked black pepper
10 zucchini (courgette) flowers, stamens removed

Preheat oven to 200°C. Heat ½ tablespoon of the oil in a large non-stick frying pan over high heat. Add the pancetta and cook for 3–4 minutes or until crisp and golden. Remove from the pan and set aside.

Add the remaining oil and the onion to the pan and cook for 3–4 minutes or until softened and lightly golden.
Place the onion in a bowl and add the grated zucchini, the lemon thyme and pancetta and mix to combine. Spoon the mixture into a lightly greased 20cm x 30cm tin lined with non-stick baking paper.
Place the eggs, cream, cheese, salt and pepper in a bowl and whisk to combine. Pour the egg mixture into the tin over the zucchini mixture and top with the zucchini flowers. Bake for 25–30 minutes or until golden and cooked through. Serves 4–6.

There are no comments for this entry yet.