apple and almond bircher muesli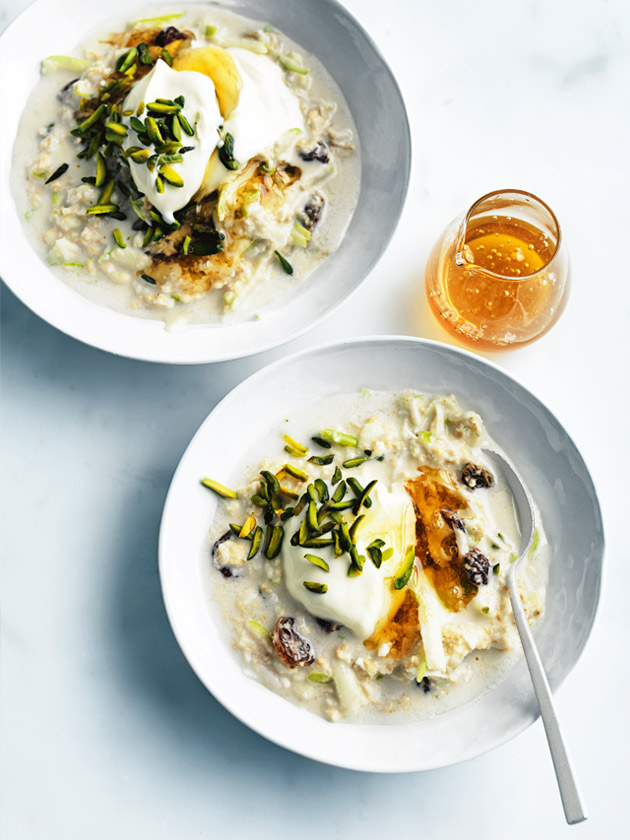 2 cups (180g) rolled oats

½ cup (40g) shredded coconut

½ teaspoon cinnamon

½ cup (75g) raisins

2 small Granny Smith apples, grated

2 tablespoons honey, plus extra to serve

2½ cups (625ml) almond milk

natural Greek-style (thick) yoghurt, to serve

¼ cup (35g) slivered pistachios, to serve

Place the oats, coconut, cinnamon, raisins, apple, honey and almond milk in a large bowl and mix well to combine. Cover and refrigerate for 1 hour to soak.

To serve, divide the mixture between bowls and serve with yoghurt, pistachios and extra honey. Serves 4

Netta McInnerney
This is the best. Our crew love it. I make it for our staff (on a cattle station) and they love it! I make the recipe 4-6 times and it all goes every time.
donna hay team
Hi Lily, yes you can refrigerate your bircher overnight. If it dries a little, you can always add another splash of almond milk. We hope you enjoy this breakfast, the DH Team.
lily maynard
can you leave this in the fridge overnight?
donna hay team
Hi Netta, yes no problem at all, use whatever milk you have. The DH team.
Netta McInnerney
can i use whole milk for this instead of almond milk?