chicken parma schnitzel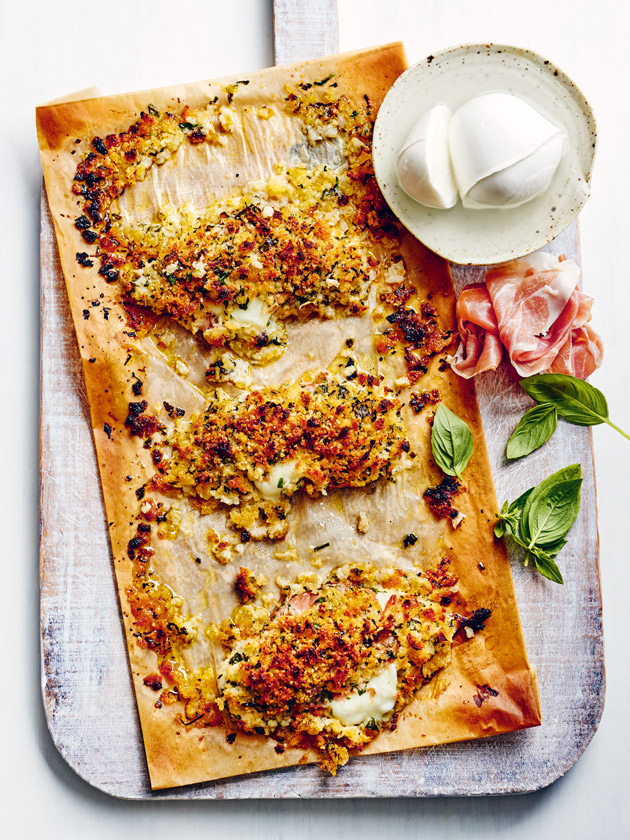 4 x 180g chicken breast fillets, trimmed and halved lengthways
16 basil leaves
8 slices buffalo mozzarella
cracked black pepper
8 slices prosciutto
3 cups (210g) fresh sourdough breadcrumbs
1 cup (80g) finely grated parmesan
⅓ cup (17g) finely chopped flat-leaf parsley leaves
extra virgin olive oil, for drizzling
basil leaves and fresh crunchy slaw, to serve
Preheat oven grill (broiler) to high.
Place the chicken on a baking tray lined with non-stick baking paper+. Top each with 2 basil leaves and a slice of mozzarella, then sprinkle with pepper. Place 1 slice of prosciutto on top of each, folding them underneath the fillets to enclose.
Combine the breadcrumbs, parmesan and parsley in a bowl.
Top each chicken fillet with the breadcrumb mixture and press to coat. Drizzle generously with oil, then grill for 10–12 minutes or until golden and cooked through.
Serve with basil leaves and basil and caper slaw. Serves 4
+ We used Glad to be Green® Compostable Brown Paper.
TIP
Swap buffalo mozzarella for regular mozzarella or any other soft cheese.
Photography: Con Poulos
Jacqui Cumming
Love this recipe. Make it regularly and have used different types of protein (beef, veal, pork as well as the chicken). Each time the family have loved it and can't decide which variation is best. Happy to have any variation. So easy and tasty.
Carol Kemp
Super easy and super yum!