chilli beef bolognese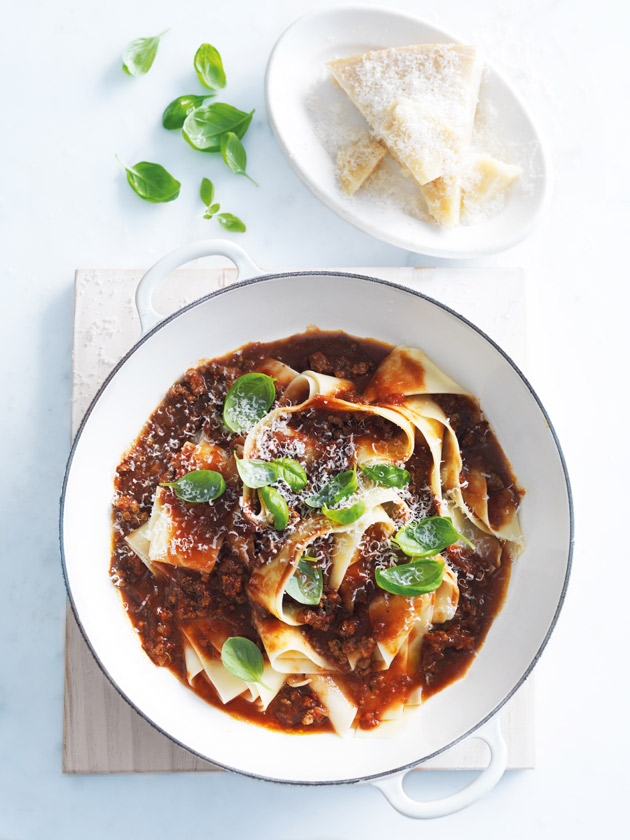 1 tablespoon extra virgin olive oil
1 onion, chopped
2 cloves garlic, crushed
1 teaspoon dried chilli flakes
1 tablespoon thyme leaves
500g beef mince
sea salt and cracked black pepper
¼ cup (60ml) balsamic vinegar
2 tablespoons tomato paste
1 cup (250ml) beef stock
2 x 400g cans chopped tomatoes
500g pappardelle
finely grated parmesan and basil leaves, to serve

Heat the oil in a large non-stick frying pan over high heat. Add the onion, garlic, chilli and thyme and cook for 3–4 minutes or until softened.

Add the mince, salt and pepper and cook, breaking up any lumps with a wooden spoon, for 10–12 minutes or until browned. Add the vinegar, tomato paste, stock and tomatoes and bring to a simmer. Reduce the heat to low, cover and cook for 20 minutes. Uncover and cook for a further 10–12 minutes or until slightly thickened.

Cook the pasta in a large saucepan of salted boiling water for 7–8 minutes or until al dente. Drain, divide between plates and top with the bolognese, parmesan and basil leaves to serve. Serves 4.

sharon gascoigne
I used 1kg mince and it took nearly 2hrs to simmer down but once it did omg the flavour & taste very different to your normal bolognese definitely do again but allow myself more time
Marisa Tunjic
A yummy version if you love heat, which I do. It really comes together by the end. Tasting mid cook threw me a bit because the balsamic vinegar need that time to taper off. And it gets even better the next day.