chocolate meringue cake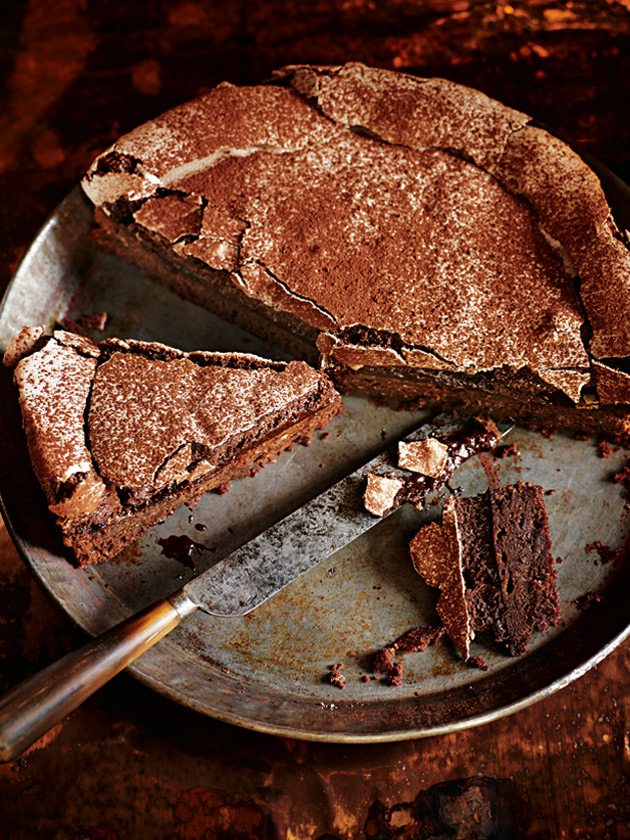 240g dark chocolate, chopped
180g unsalted butter, chopped
2 eggs
4 eggs, extra, separated
½ cup (90g) brown sugar
1 teaspoon vanilla extract
⅓ cup (50g) plain (all-purpose) flour, sifted
½ teaspoon baking powder, sifted
⅓ cup (40g) almond meal (ground almonds)
1 cup (220g) caster (superfine) sugar
1 teaspoon white vinegar
3 teaspoons cornflour (cornstarch), sifted
¼ cup (25g) Dutch cocoa, sifted, plus extra, for dusting

Preheat oven to 160ºC (325ºF). Lightly grease a 24cm-round springform cake tin, line the base with non-stick baking paper and set aside. Place the chocolate and butter in a medium saucepan over low heat and stir occasionally until melted and smooth. Allow to cool slightly.
Place the eggs, extra egg yolks, brown sugar and vanilla in the bowl of an electric mixer and whisk for 3–4 minutes or until pale and thick. Add the chocolate mixture, flour, baking powder and almond meal and fold gently to combine. Pour the mixture into the prepared tin and bake for 35–40 minutes. Remove from the oven and set aside. Increase the oven temperature to 180°C (350°F).
Place the extra eggwhites in the clean bowl of an electric mixer and whisk on high speed until soft peaks form. Gradually add the sugar, whisking until dissolved. Add the vinegar and whisk for a further 2–3 minutes or until the meringue is thick and glossy. Fold through the cornflour and cocoa and spoon the mixture onto the partially cooked cake. Spread evenly and return the cake to the oven for 20–25 minutes or until the meringue is golden and crisp. Allow the cake to stand at room temperature for 15–20 minutes before gently running a small knife around the edge and removing the ring. Allow the cake to cool at room temperature and refrigerate for 2 hours before serving. Dust with the extra cocoa to serve. Serves 8–10.

+ This cake is supposed to look rustic and uneven – don't be alarmed if it cracks or collapses a little.
donna hay team
Hi Angelica, Yes this recipe is from the 80th edition issue. it is one of our favourites! Happy cooking!
Angelica Bolwerk
Is this the same chocolate meringue cake from the 80th edition pag. 77?
It looks slightly different and the recipe is not in the magazine. It says: find this recipe online
Cheree Lombard
What can I use instead of the Almond Meal? I'm allergic to nuts
Tracy Caputo
I would like to make this dessert but I'm allergic to almonds can I just add more flour & will it turn out the same?
Olivia Derecourt-Griffin
Are your temperatures based on Fan Bake or Bake setting?
donna hay team
Hi Theresa, unfortunately we have not tested this cake in a small version. If you decide to give it a go, please let us know how you went. The DH team
Theresa Wright
I'd like to bake these as mini/individual cakes - how long do you think the base would need for those?