chopped beef and cheese burger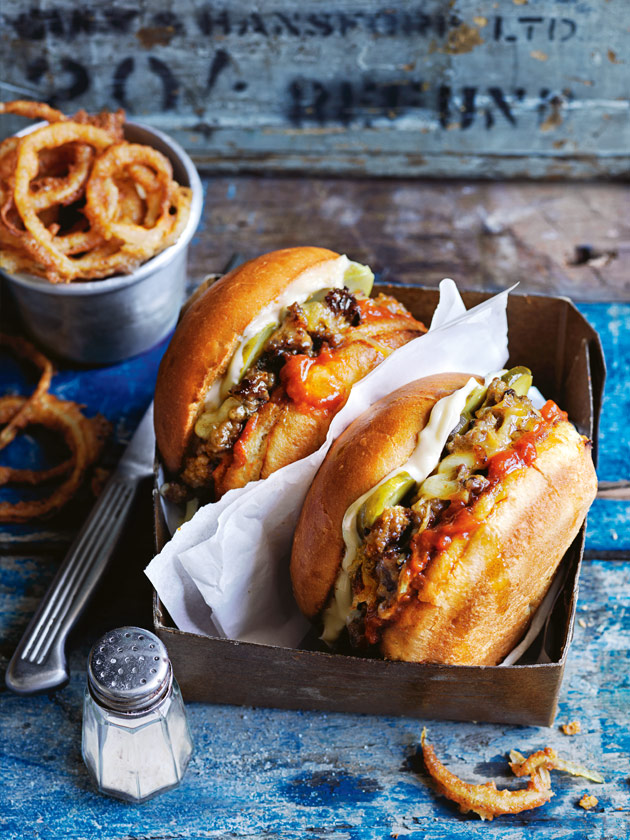 600g beef mince

1 onion, finely chopped

sea salt and cracked black pepper

4 brioche buns, halved and toasted

½ cup (125ml) smoky peach barbecue sauce+ (click link in method for recipe)

2½ cups (250g) grated mozzarella

2 cups (240g) grated red cheddar cheese

½ cup (100g) bread and butter pickles, drained

½ cup (150g) ultimate burger sauce+ (click link in method for recipe)

buttermilk onion rings, to serve (click link in method for recipe)

Place the mince, onion, salt and pepper in a bowl and mix well to combine. Heat a large, non-stick frying pan over high heat. Add the mince mixture and cook for 10 minutes or until browned. While the mince is cooking, spread the base of the bun halves with barbecue sauce and set aside.
Add the cheeses to the mince mixture and toss to combine until the cheese starts to melt. Divide mince between the bun bases. Top with pickles and ultimate burger sauce. Top with remaining bun halves and serve with onion rings. Makes 4.

+ We used our smoky peach barbecue sauce and ultimate burger sauce in this burger, but you can use any store-bought barbecue sauce or aioli.
There are no comments for this entry yet.