classic apple crumble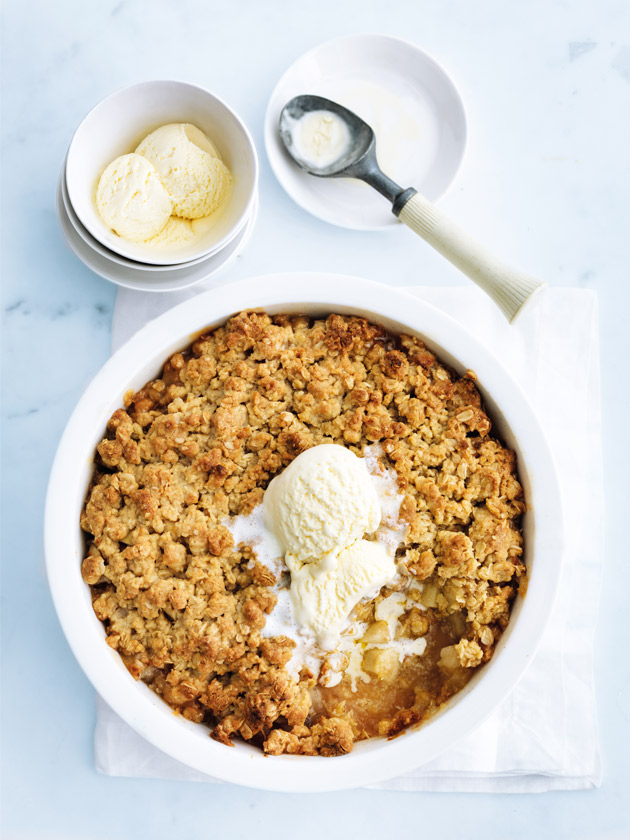 5 medium Granny Smith (green) apples (900g), peeled, cored and cut into 2cm dice

½ cup (110g) caster (superfine) sugar

2 tablespoons lemon juice

½ teaspoon ground cinnamon

store-bought vanilla ice-cream, to serve

crumble topping
1½ cups (225g) plain (all-purpose) flour

¾ cup (165g) caster (superfine) sugar

1 teaspoon ground cinnamon

1 cup (90g) rolled oats

225g unsalted butter, melted

Preheat oven to 180°C (350°F). Place the apple, sugar, lemon juice and cinnamon in a large bowl and mix to combine. Transfer to a 1.5-litre-capacity ovenproof dish.
To make the crumble topping, place the flour, sugar, cinnamon, oats and butter in a large bowl and mix until just combined.
Spoon the crumble mixture over the apple and place the dish on a large baking tray. Bake for 40–45 minutes, or until the crumble is golden and the apples are soft. Serve with vanilla ice-cream. Serves 6.

mario baselt
Easy recipe. While being pregnant I made this crumble for my wife twice a week. Still a family favourite to this day.
Angelia Ria
This is a good recipe for old school cooks not sold on the idea of oats in a crumble. I like the ratio's, less sugar than most other recipes. I used homemade brown sugar. I may never be completely sold on oats but happy with this recipe
Penny McKee
Our go-to Apple Crumble recipe. Typical Donna Hay style: easy and delicious.
Sofie Van Cauter
My husband made this on Christmas and I ate half of it. Not ashamed it was delicious! Requesting it again for my birthday in 2 weeks :D. Amazing recipe Donna and team! ps. it's even better with some dulce de leche on top
donna hay team
Hi Rebecca, Yes, of course you can use pink lady apples, you will find they are a little bit sweeter in flavour. Enjoy!
Rebecca Cox
Hi there. I am wanting to make an apple crumble but have an abundance of pink lady apples. Will they work ok? Thanks
anna blyton
Quick and simple to make,though next time I would use a little less butter to form a better crunch and a little less sugar as I found it just a bit to sweet. Or substitute brown sugar in the topping instead of caster sugar
Shellie Froidevaux
DELICIOUS! I had two servings it was so good! I added chopped almonds to my crumble for added crunch.
Andrea Drummond
Yummiest Apple crumble - easily veganised by replacing the butter with nuttelex. Running short on time so I used tinned apples and used ground raw sugar instead of caster sugar. Easily the best crumble ever!!
Nemia Fennell
OMG this is the best apple crumble and my family love it. I made it twice already and I reduced the sugar to half, golden syrup to 1/4 cup and I use wholemeal SRF.
Janine Coveney
OMG this was amazing and so quick and easy. I love that you don't fuss around rubbing the butter into the flour for the crumble topping. Everyone devoured it!
donna hay team
Hi Caroline, you could substitute plain flour for a gluten free flour like a 1 to 1 baking flour. Quinoa flakes do tend to have a strong flavour, we recommend puffed brown rice. Happy baking! The DH Team
Caroline Turnbull
Hi,
I was wondering if you could substitute plain flour with gluten free flour and the oats with quinoa flakes to make it gluten free?
Clarissa Hilbig
I too have made this recipe many times over even altered it using pears, added banana slices to the top of apples, or oranges slices layered over the apples before adding the crumble mix all have had glowing critiques. This is a brilliant recipe! Thank you team!
Leoda Smalley
I have made this recipe multiple times and have always had great comments. I have reduced the sugar by half in both topping in the main as they are sweet enough. Lovely to serve with ice cream and or pouring cream.
Robert Cannon
I've actually tried combining apple and rhubarb in this recipe, using half of each. Not sure if it comes out as well as using just apples though.
Carly Rurehe
This is without a doubt the BEST crumble I've ever eaten. And I have eaten plenty! My first time making a crumble and I used my flash casserole dish. It was sublime.