crispy salami, crushed pea and ricotta pasta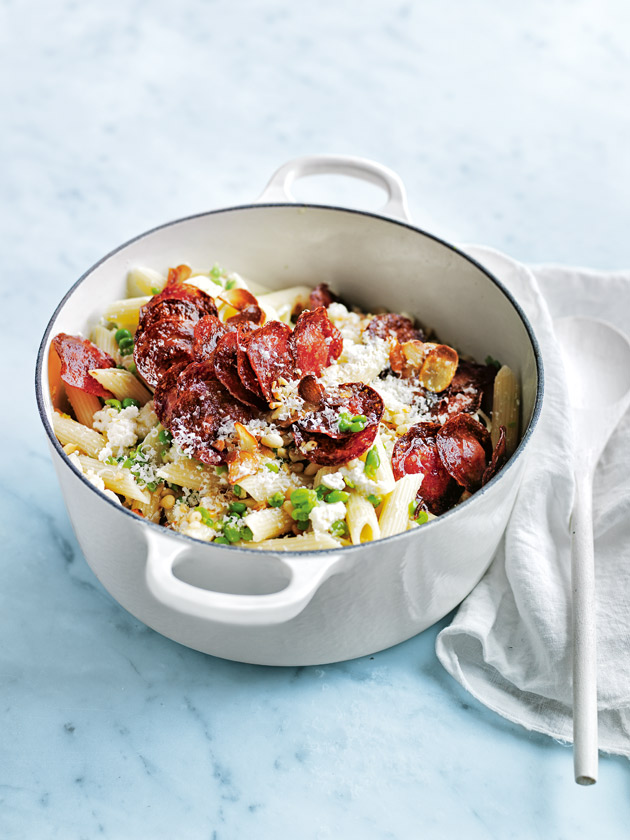 400g penne

2 tablespoons extra virgin olive oil

100g salami, thinly sliced

2 tablespoons chopped pine nuts

2 cloves garlic, thinly sliced

2 cups (280g) frozen baby peas, blanched

2 teaspoons finely grated lemon rind

sea salt and cracked black pepper

½ cup (120g) fresh ricotta

2 tablespoons lemon juice

finely grated parmesan, to serve

Cook the pasta in a large saucepan of salted boiling water for 8–10 minutes or until al dente. Drain and return to the pan.

While the pasta is cooking, heat the oil in a large frying pan over medium heat. Add the salami, pine nuts and garlic and cook, stirring, for 2 minutes or until crispy. Set aside.

Place the peas, lemon rind, salt and pepper in a bowl and crush with a fork. Add the ricotta and mix to combine. Add the pea mixture and lemon juice to the pasta, mix to combine and divide among bowls.
Top with the salami mixture and parmesan to serve. Serves 4.

Matthew Costelloe
So quick and easy and very delicious.