dark chocolate and caramel puddings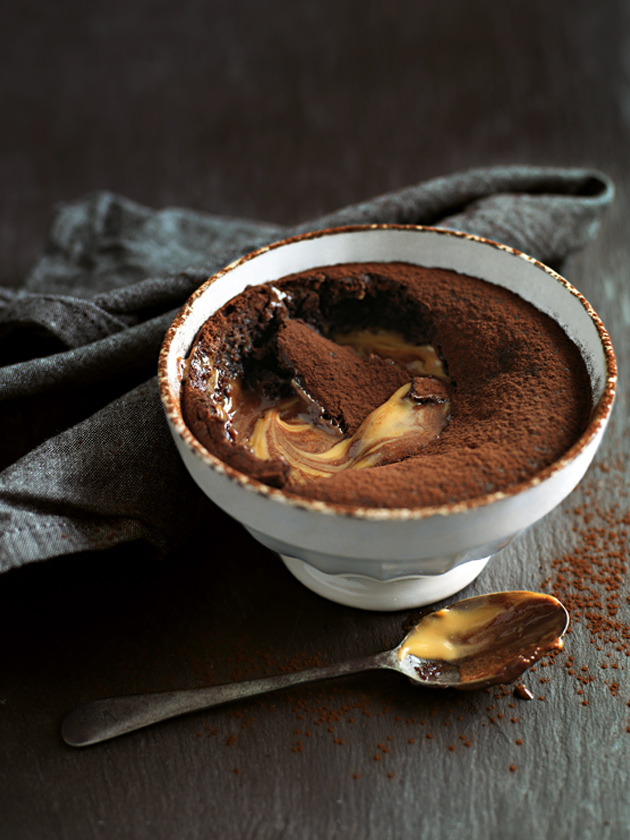 1 x 380g can store-bought caramel filling or dulce de leche*

⅓ cup (80ml) double (thick) cream*

200g dark chocolate, chopped

60g unsalted butter

3 eggs

½ cup (90g) brown sugar

1 teaspoon vanilla extract

½ cup (60g) almond meal (ground almonds)

cocoa, for dusting

Preheat oven to 200°C (400°F). Place the caramel in a bowl and whisk until smooth. Add the cream and mix well to combine. Place ⅓ cup (80ml) of the caramel mixture in the base of each of 4 x 1½ cup-capacity (375ml) ovenproof dishes.
Place the chocolate and butter in a heatproof bowl over a saucepan of simmering water and stir until the chocolate is melted and smooth. Place the eggs, sugar and vanilla in an electric mixer and beat for 8–10 minutes or until doubled in size. Fold the chocolate mixture and almond meal through the egg mixture and divide between the dishes. Place on a baking tray and bake for 18–20 minutes or until risen and the centres are soft. Stand for 5 minutes. Dust with cocoa to serve. Makes 4.

There are no comments for this entry yet.