date and tea loaf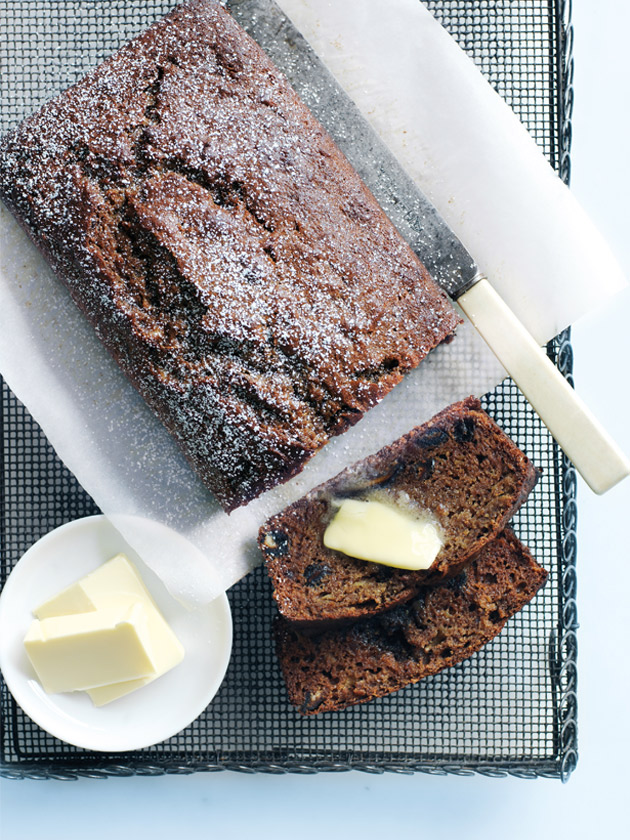 2½ cups (450g) chopped fresh (medjool) dates

1 teaspoon bicarbonate of soda

¾ cup hot brewed English breakfast tea

150g unsalted butter, melted

1 teaspoon vanilla extract

4 eggs

2 medium Granny Smith (green) apples, peeled and grated

1¼ cups (185) self-raising flour, sifted

½ cup (90g) brown sugar
unsalted butter, extra, to serve

icing sugar, for dusting

Preheat oven to 160°C. Place 1½ cups of the dates, bicarbonate of soda and tea in a bowl and set aside for 5–10 minutes or until dates are softened.

Using a hand-held stick blender, blend the date mixture until smooth. Place the date mixture, remaining dates, butter, eggs, vanilla, apple, flour and sugar in a large bowl and stir until combined.

Spoon the mixture into a greased 10cm x 21cm (10-cup-capacity) loaf tin lined with non-stick baking paper. Bake for 55–60 minutes or until cooked when tested with a skewer.

Allow to cool in tin for 10 minutes before turning out onto a wire rack to cool completely. Serve with butter. Serves 6–8

Susan Winter
This is the best date loaf that I've made! So moist and yummy flavour. Have recommended to friends and making again. Thanks Donna.
donna hay team
Hi Sascha, the texture will be a little different but you can definitely follow the recipe with dried dates. The DH team x
Sascha Rayner
Would this work using dry dates or will it only work with fresh dates?