better-for-you hot cross buns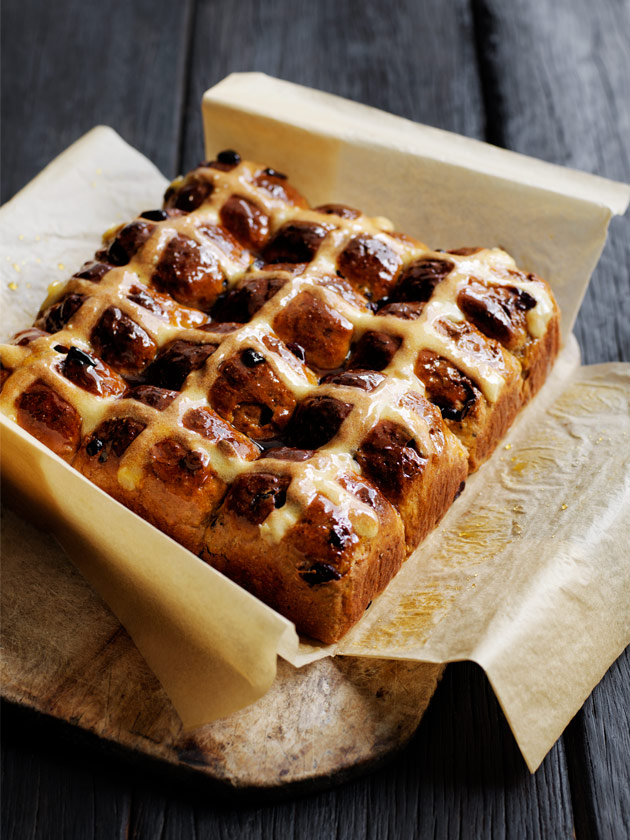 1 tablespoon active dry yeast
½ cup (75g) coconut sugar
1½ cups (375ml) lukewarm milk
2 cups (300g) plain (all-purpose) flour, sifted
2 cups (300g) plain wholemeal (whole-wheat) flour
2 teaspoons ground cinnamon
¼ cup (60ml) extra virgin olive oil
1 egg
1½ cups (230g) sweetened dried cranberries
2 tablespoons finely grated orange rind
unsalted butter, to serve
cross
½ cup (75g) plain (all-purpose) flour, extra sifted
⅓ cup (80ml) water
glaze

½ cup (125ml) pure maple syrup
¼ cup (60ml) orange juice
Place the yeast, 2 teaspoons sugar and the milk in a large bowl and set aside for 5 minutes. The mixture will start to foam, indicating that the yeast is active.
Place the flours, cinnamon, oil, egg, cranberries, orange rind and remaining sugar in the bowl of an electric mixer with the dough hook attached+. Mixing on low speed, gradually add the yeast mixture. Continue mixing on low speed kneading for 6–8 minutes or until the dough is smooth and elastic.
Transfer the dough to a large lightly greased bowl and cover with a clean damp cloth. Set aside in a warm place for 1 hour or until doubled in size.
Divide the dough into 12 pieces and roll into balls. Arrange the dough balls in a lightly grease 22cm square cake tin lined with non-stick baking paper++. Cover with a damp cloth and set aside in a warm place for 30 minutes or until doubled in size. Preheat oven to 200°C (400°F).
To make the crosses, place the extra flour and the water in a bowl and stir to combine. Spoon into a piping bag or a small zip lock bag with one corner snipped off and pipe crosses on the buns. Bake for 35–40 minutes or until golden and springy to touch.
While the hot cross buns are baking, make the glaze. Place the maple and orange juice into a frying pan over medium heat. Bring to the boil and simmer for 5 minutes or until thickened. While the buns are still hot, brush with the warm glaze and serve with butter. Makes 12
+ If you do not have an electric mixer with a dough hook attachment, simply knead the dough by hand on a lightly floured surface for 8 minutes or until the dough is smooth and elastic.
++ We used Glad to be Green® Compostable Brown Paper.
Photography: Chris Court
There are no comments for this entry yet.