cheat's maple apple tarte tatin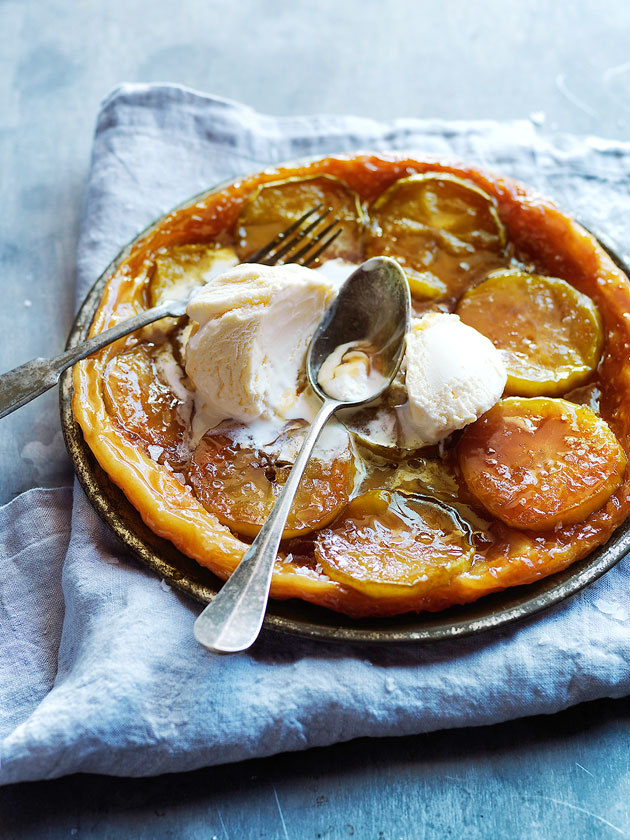 50g unsalted butter
½ cup (125ml) maple syrup
3 green (Granny Smith) apples (400g), cut into 1cm-thick slices
2 sheets store-bought puff pastry
vanilla ice-cream, to serve
Preheat the oven to 200°C (400°F). Melt the butter in a 21cm non-stick ovenproof frying pan over medium heat. Add the maple syrup and arrange the apple in the base of the pan. Cook for 5–6 minutes or until just soft. Remove from the heat and set aside.
Press the pastry together to make one thick sheet. Using a plate as a guide, cut out a 24cm round. Place the pastry over the apples and press down gently to secure.
Place on a large baking tray and cook in the oven for 20– 25 minutes or until golden brown and the pastry is puffed and golden. Allow to stand for 2 minutes before carefully inverting onto a plate. Serve with vanilla ice cream. Serves 4.
Tip: To turn out the tarte tatin, just gently loosen the edges with a palette knife, place a plate over the frying pan and carefully invert.
Tip: Placing on a baking tray while cooking means that any little bits of caramel that might bubble over doesn't drip into the bottom of your oven.
There are no comments for this entry yet.
RELATED VIDEO