choc-peppermint slice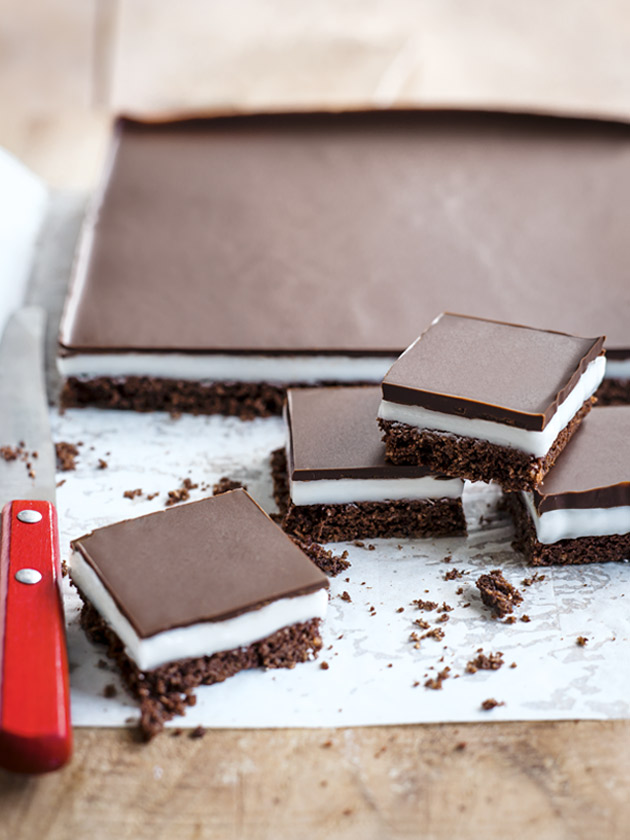 ⅔ cup (100g) self-raising (self-rising) flour, sifted

¼ cup (25g) cocoa, sifted

½ cup (40g) desiccated coconut

¼ cup (55g) caster (superfine) sugar

140g unsalted butter, melted

1 egg, lightly beaten

peppermint filling
3½ cups (480g) icing (confectioner's) sugar, sifted

2½ tablespoons boiling water

½ teaspoon peppermint essence

chocolate topping
200g dark chocolate, chopped

1 tablespoon vegetable oil

Preheat oven to 180ºC (350ºF). Place the flour, cocoa, coconut, sugar, butter and egg in a bowl and mix well to combine.

Press into the base of a lightly greased 20cm x 30cm tin lined with non-stick baking paper and bake for 12–15 minutes or until soft to the touch and cooked through. Set aside to cool completely.

To make the peppermint filling, place the icing sugar, water and mint essence in a bowl and stir to combine.

Working quickly, spread over the cooled base and refrigerate for 1 hour or until firm.

To make the chocolate topping, place the chocolate and oil in a heatproof bowl over a saucepan of simmering water and stir until melted and smooth.

Pour the chocolate over the filling and swirl the tin to coat. Refrigerate for 30 minutes or until firm.

Cut into squares and keep refrigerated until ready to serve. Makes 20.

Paul Cook
I'm in the process of making this. The water to icing sugar ratio seems way off. Had to add 2-3 times more to get a spreadable paste.