chocolate cookie christmas tree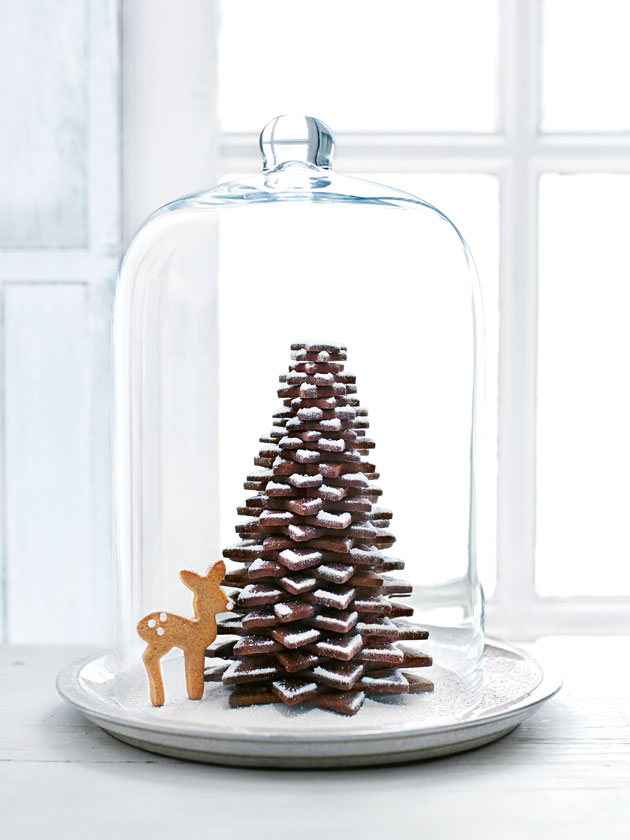 1 x quantity vanilla snap cookie dough (see recipe, page 150)

¼ cup (25g) Dutch cocoa, sifted

icing (confectioner's) sugar, for dusting

icing
½ cup (80g) icing (confectioner's) sugar, sifted

2 teaspoons boiling water

Follow the basic vanilla snap cookie dough recipe, adding 
the cocoa with the flour. Roll the dough out between two 
sheets of non-stick baking paper to 3mm thick and refrigerate 
for 30 minutes or until firm.

Preheat oven to 160°C (325°F). Using 12cm, 11cm, 10cm, 9cm, 8cm, 7cm, 6cm, 5cm, 4cm and 3cm six-pointed star cookie cutters, cut out three stars of each size, re-rolling the dough 
as necessary. Place on large lightly greased baking trays lined with non-stick baking paper and bake for 10 minutes. Allow to cool slightly before transferring to wire racks to cool completely. 
To make the icing, mix to combine icing sugar and water until smooth. Stack the stars starting from largest to the smallest, securing each star with a little icing. Dust the tree with icing sugar to serve. Makes 1.

There are no comments for this entry yet.