chocolate heart cakes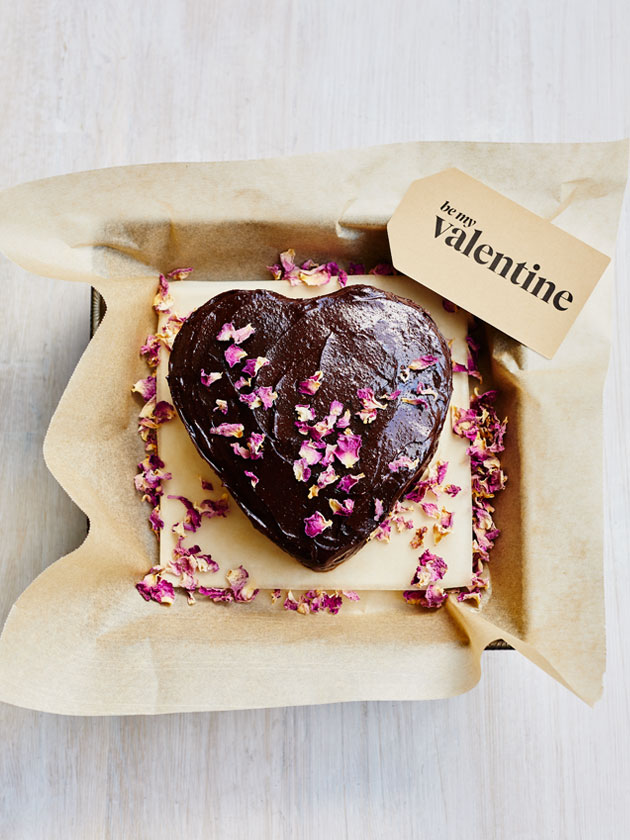 ¾ cup (180ml/6 fl oz) light-flavoured extra virgin olive oil
½ cup (125ml/4¼ fl oz) milk or nut milk
½ cup (125ml/4¼ fl oz) pure maple syrup
6 eggs
½ cup (110g/4 oz) raw caster (superfine) sugar
2 teaspoons vanilla extract
3 teaspoons baking powder
¾ cup (75g/2½ oz) cocoa powder, sifted
3½ cups (420g/14¾ oz) almond meal (ground almonds)
edible dried rose petals, to serve (optional)
chocolate frosting
¾ cup (180g/6¼ oz) smooth cashew butter
½ cup (125ml/4¼ fl oz) pure maple syrup

⅓

cup (35g/1¼ oz) cocoa powder, sifted
2-3 tablespoons milk or nut milk
Preheat oven to 160°C (325°F). Lightly grease 4 x ¾-cup-capacity (180ml) large muffin tins and line the bottom with non-stick baking paper+. Line a 20cm (8 inch) square cake tin with non-stick baking paper+.
In a large bowl add oil, milk, maple, eggs, sugar and vanilla into a bowl and whisk to combine.
Sift the baking powder and cocoa over the milk mixture. Add the almond meal and mix to combine.
Pour ½-cupfuls of mixture into prepared muffin tins and the remaining mixture into the cake tin, smoothing the surface. Bake the muffins for 20-25 minutes or until cooked when tested with a skewer. Bake the square cake for 30–35 minutes or until cooked when tested with a skewer. Cool in tins for 10 minutes then turn out onto wire racks to cool completely.
To make the chocolate frosting, mix together the cashew butter and maple. Sift over the cocoa powder and stir to combine. Add enough milk to make a spreadable consistency and mix until smooth.
To assemble the heart cakes, cut each muffin in half. Trim the edges of the square cake and cut into 4 squares. Place 1 square on your serving platter and rotate to form a diamond. Place two muffin halves, flat sides facing down, on the top to form a heart.
To decorate, divide the icing mixture into 4 and spread the icing over the top and sides of each heart cake. Top with edible dried rose petals to serve. Makes 4
+ We used Glad to be Green® Compostable Brown Bake Paper. Not only great for lining cake tins, but perfect for lining gift boxes and wrapping chocolate treats.
HOW TO
Assembling your heart cake is simple.

GIFTING
Personalise your gift and download our printable gift tags below. There are four designs to choose from:
Photography: Con Poulos
There are no comments for this entry yet.