classic hot cross buns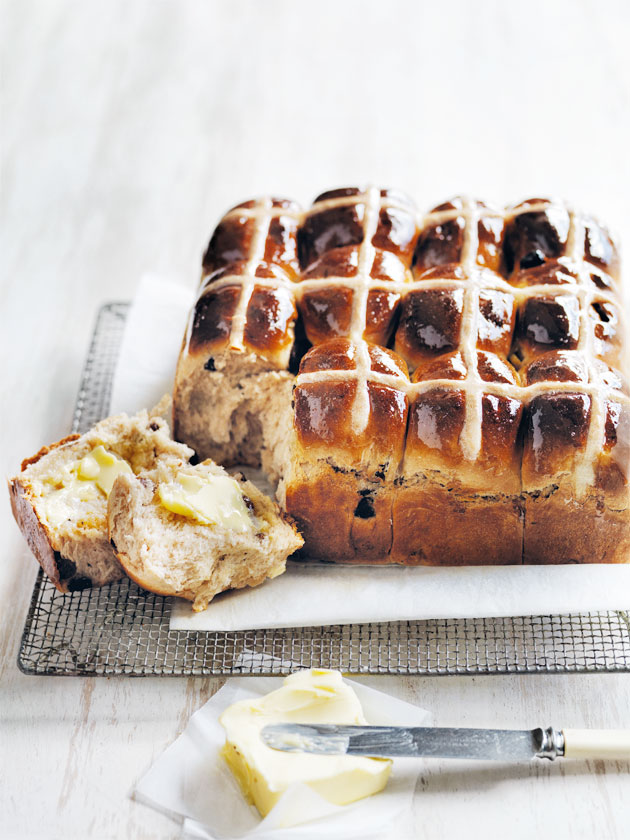 1 tablespoon active dry yeast

½ cup (110g) caster (superfine) sugar

1½ cups (375ml) lukewarm milk

4¼ cups (635g) plain (all-purpose) flour, sifted

2 teaspoons mixed spice

2 teaspoons ground cinnamon

50g unsalted butter, melted

1 egg

1½ cups (240g) sultanas

⅓ cup (55g) candied mixed peel, optional

½ cup (75g) plain (all-purpose) flour, extra

⅓ cup (80ml) water

unsalted butter, to serve

glaze
1 tablespoon water

2 teaspoons gelatine powder

½ cup (110g) caster (superfine) sugar

¼ cup (60ml) water, extra

Place the yeast, 2 teaspoons sugar and the milk in a large bowl and set aside for 5 minutes. The mixture will start to foam, indicating that the yeast is active. Add the flour, mixed spice, cinnamon, butter, egg, sultanas, mixed peel and remaining sugar to the yeast mixture and mix until a sticky dough forms. Knead the dough on a lightly floured surface for 8 minutes or until elastic. Place in a lightly oiled bowl, cover with a clean, damp cloth and set aside in a warm place for 1 hour or until doubled in size. Divide the dough into 12 pieces and roll into balls. Arrange the dough balls in a lightly greased 22cm square cake tin lined with non-stick baking paper. Cover with a damp cloth and set aside in a warm place for 30 minutes or until risen. Preheat oven to 200°C (400°F).
Place the extra flour and the water in a bowl and stir to combine. Place in a piping bag or a plastic bag with one corner snipped off, and pipe crosses on the buns. Bake for 30–35 minutes or until golden and springy to touch.
While the hot cross buns are baking, make the glaze. Place the water in a small bowl and sprinkle over the gelatine. Set aside for 1–2 minutes or until the gelatine is dissolved. Set aside. Place the sugar and extra water in a small saucepan over low heat and cook, stirring, until the sugar is dissolved. Use a wet pastry brush to remove any sugar crystals on the side of the pan. Add the gelatin mixture and cook for 1–2 minutes or until the gelatin is dissolved. Brush with the warm glaze while the buns are still hot. Serve warm with butter. Makes 12.
donna hay team
Hi Josien, the buns can be dense if the dough has been over kneaded or over proofed (when the dough has been left to sit longer than 1 hour in the initial stages). Hope this helps! The DH Team
Josien Wayne
My buns turned out very dense. What have I done wrong?
Lisa Mahoney
First time I have made hot cross buns, this recipe is amazing, the best ever and so easy, worked perfectly. Soft and fluffy although I used less sugar only 2 teaspoons with yeast and added zest of an orange. Will definitely be making these again including your hot cross bun loaf! Thanks
Cat G
Hi Donna, I'd like to make these ahead of time. Will they still be fresh and moist if I make them the day before i need them?,
and should I keep in air tight container in fridge or the cupboard? Thankyou
donna hay team
Hi, Xenia. Yes, if you are using dried apples. Using freshly grated apple will result in a wet dough that won't be fluffy. The DH Team.
donna hay team
Hi, Brittany. We bake using fan-forced oven settings. Thanks! The DH Team.
Catherine Proctor
I just wanted to say thank you. I've been using this recipe since it was first published and it has become part of our family Easter tradition. It's a reliable recipe that has always turned out perfectly even the first time I tried it.
Xenia K
May I put apples instead of candied fruit?
Leigh Lawton
I make these every year and they are the best they are quick easy and my family love them very much. Best receipe ever. Love Donna Hay
Brittany Fitzgerald
200 degrees fan forced or conventional oven?
donna hay team
Hi Darlene, mixed spice is a blend of spices that you can buy premixed from the supermarket. The dh team
donna hay team
Hi Geraldine, we haven't tested these with almond milk - however it should work, make sure to buy a unsweetened almond milk. The dh team
Kelly Cullen
I have made these buns with very little success using 'plain flour' however I have since repeated making them using 'bread flour' and they came out perfect, they tasted great and were lovely and light
I have now treated all my neighbours to some and every batch has worked out fine!
Geraldine Harris
My daughter is vegan. Does this recipe work with almond milk?
Karen Foster
I'd never made Hot Cross Buns before these. I'm doing another batch today with Chocolate Chips. The recipe is simple and delicious!