coconut yoghurt and passionfruit brûlée tarts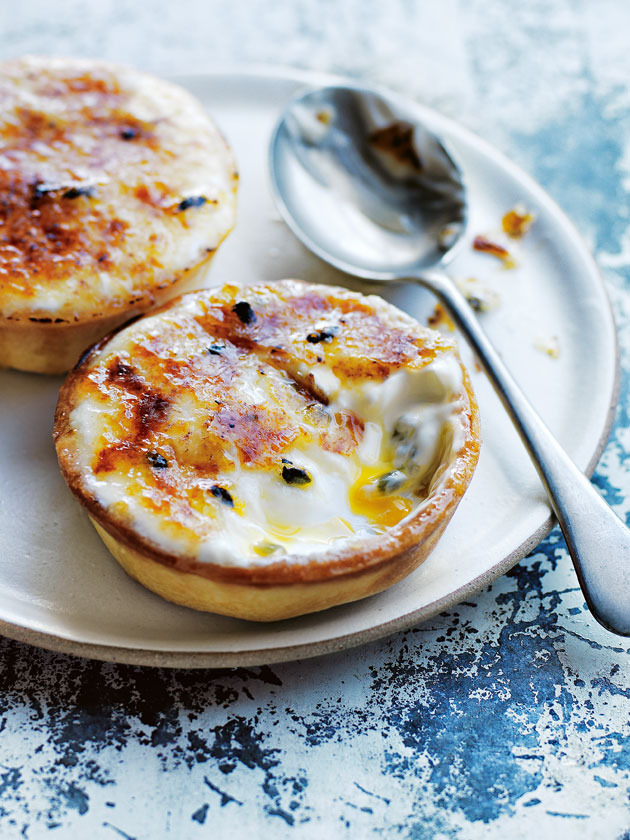 ¼ cup (60ml) passionfruit pulp (about 3 passionfruit)

2 cups (500g) coconut yoghurt+

⅔ cup (150g) white (granulated) sugar

1 teaspoon passionfruit pulp, extra

shortcrust pastry
1½ cups (225g) plain (all-purpose) flour

½ cup (40g) desiccated coconut

1 tablespoon finely grated lemon rind

½ cup (80g) icing (confectioner's) sugar

125g cold unsalted butter, chopped

2 egg yolks

1 tablespoon iced water

To make the shortcrust pastry, place the flour, coconut, lemon rind, sugar and butter in a food processor and process until the mixture resembles fine breadcrumbs. With the motor running, add the egg yolks and water and process until a dough just comes together. Turn out the dough and gently knead to bring together into a ball. Roll the dough out between 2 sheets of non-stick baking paper to 3mm thick. Refrigerate for 1 hour.

Use a 12cm cookie cutter to cut 6 rounds from the pastry, re-rolling if necessary. Use the rounds to line 6 x 8cm round tart tins. Trim the edges and prick the bases with a fork. Place on a baking tray and refrigerate for 20 minutes.

Preheat oven to 160°C (325°F). Line each pastry case with non-stick baking paper and fill with baking weights or uncooked rice. Bake for 10–12 minutes, remove the paper and weights and bake for a further 12–15 minutes or until the pastry is light golden. Allow to cool completely in the tins.

Remove the pastry cases from the tins. Divide the passionfruit between the cases and fill each with yoghurt. Refrigerate for 1 hour or until firm.

Place the sugar and extra passionfruit in a bowl and use your fingers to combine. Sprinkle over the tarts in a thin layer. Using a small kitchen blowtorch, caramelise the tops. Allow to stand for 5 minutes before serving. Makes 6.
+ You can buy yoghurt made with coconut milk at some supermarkets and at grocers and specialty food stores.
There are no comments for this entry yet.