dark chocolate truffles
with caramel crunch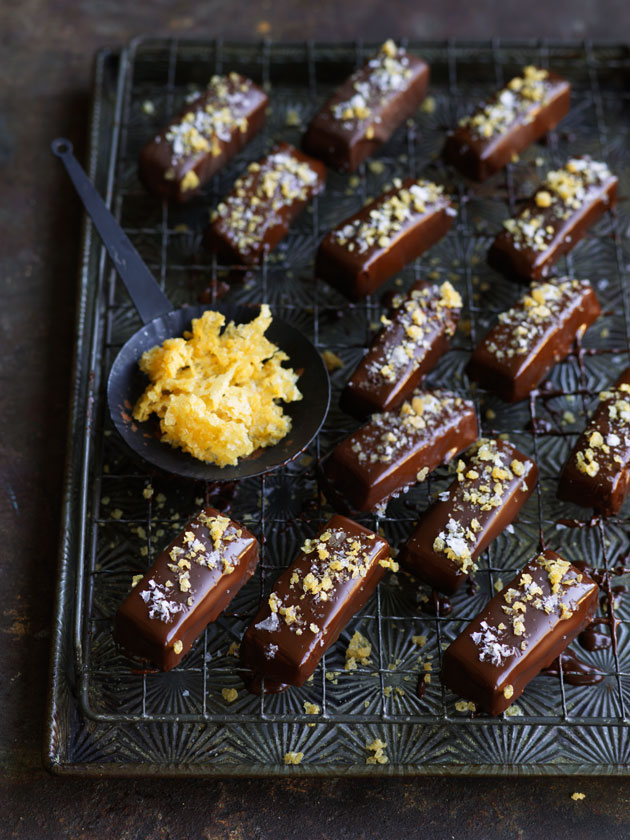 ⅔ cup (160ml) thick double cream

¾ cup (180g)

firmly packed CSR Dark Brown Sugar
½ cup (110g) CSR Caster Sugar

50g unsalted

butter

½ cup (175g)

CSR Golden Syrup

200g dark

chocolate, melted

sea salt

flakes, to serve
caramel crunch
⅓ cup (70g) CSR

Premium Coffee Sugar Crystals
1 tablespoon water
Preheat oven to 160°C (325°F). To make the caramel crunch, place the coffee sugar and water in a bowl and mix well to combine. Spoon the sugar mixture onto a baking tray lined with non-stick baking paper. Bake for 30 minutes or until golden. Allow to cool on tray then break into small pieces and set aside.

To make the

truffles, line a 10cm x 21cm loaf tin with non-stick baking paper. Place the cream, dark brown sugar, caster sugar, butter and golden syrup in a saucepan over medium heat and stir until smooth. Bring mixture to a simmer and cook for around 15 minutes or until the mixture reaches 124°C (255°F) on a sugar thermometer. Set aside to cool for 5 minutes. Pour mixture into prepared tin and refrigerate for 3-4 hours or until set. Slice the caramel into 20 bars.
Using two forks, dip each caramel into the melted chocolate, tapping off any excess, then place on a lightly oiled wire rack. Sprinkle with the caramel crunch and a pinch of sea salt flakes. Refrigerate until set, then serve. Makes 20
Tips + Tricks:
Dark brown sugar gives these truffles their deep caramel flavour – from the chewy and moreish inside, to its crunchy caramel sprinkle. They are well worth the effort!
Photography: William Meppem

donna hay team
Hi Melanie, in the UK, you can use demerara sugar instead of coffee sugar. Happy baking! the dh team
donna hay team
Hi Asha, the consistency of these truffles are meant to be firm and chewy. Double cream is very popular here in Australia, however whipping cream works just as well. Hope this helps! the dh team
Melanie Verby
Hi
If we don't have the coffee sugar in the UK, how do we make it? Need to make these!
Thanks
Melanie
Asha Grosch
Hi Donna, thanks so much for all your great recipes! These truffles turned out very tasty, but unfortunately also firm and chewy on a couple of occasions despite double checking the cooking temperature with a second candy thermometer. I haven't been able to find double cream in Canada and used 35% whipping cream instead—perhaps that's why. Wondering if you have any suggestions for substitution/adjustment to better approximate double cream?
Thank you
.