dark chocolate turkish delight ice-creams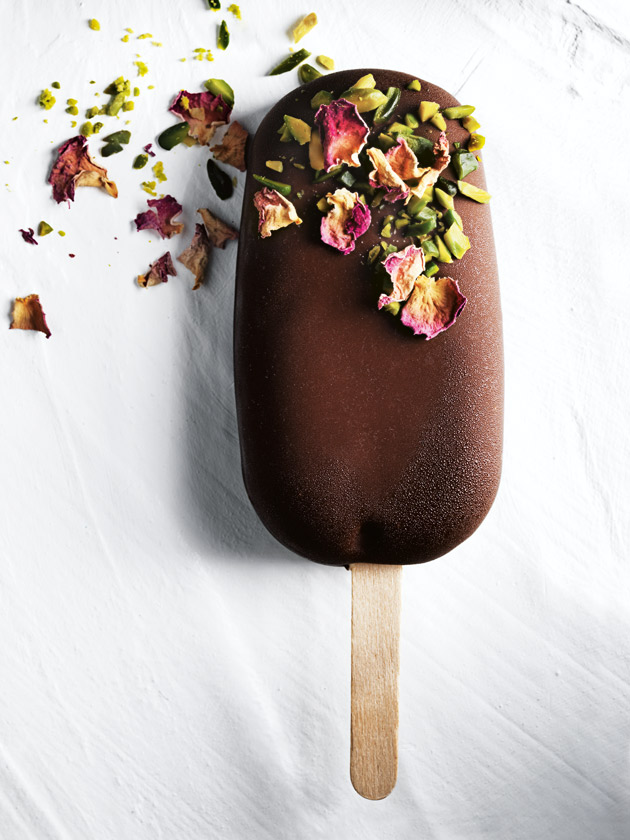 3 cups (750ml/525g) store-bought vanilla ice-cream, roughly chopped

110g Turkish delight, finely chopped+

¼ cup (35g) slivered pistachios, plus 1 tablespoon, extra, finely chopped

400g dark chocolate, melted

2 tablespoons vegetable oil

1 tablespoon edible dried rose petals++

Place the ice-cream in the bowl of an electric mixer and beat on low speed until softened. Fold through the Turkish delight and pistachio. Spoon into 8 x ⅓-cup-capacity (80ml) popsicle moulds, insert popsicle sticks and freeze for 8 hours or overnight. Run the popsicle moulds under hot water for 10 seconds to remove, then place popsicles on a large baking tray lined with non-stick baking paper. Freeze until needed.

Place the chocolate and oil in a medium bowl and mix until smooth. Set aside until the mixture cools to room temperature. Working quickly, dip each popsicle in the chocolate mixture to coat. Place on the baking tray and sprinkle immediately with the extra pistachio and the rose petals. Serve immediately or freeze until ready to serve. Makes 8.
+ Use a knife dusted with cornflour (cornstarch) to chop the Turkish delight.
++ Dried rose petals are from selected delis and cake decorating stores.
There are no comments for this entry yet.