date and caramel biscuits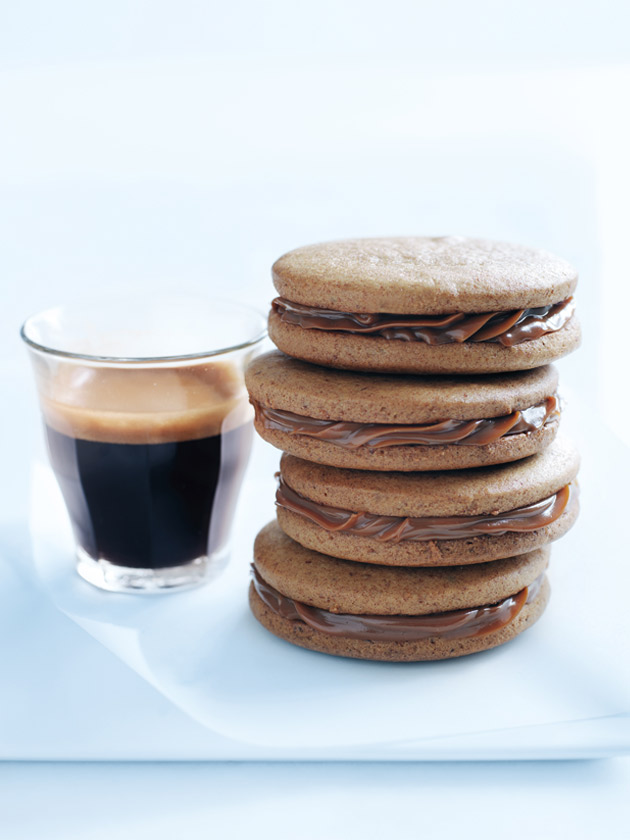 100g unsalted butter, softened

1 cup (175g) brown sugar

1 teaspoon vanilla extract

1 egg

1½ cups (270g) fresh (medjool) dates, chopped

1 tablespoon finely chopped crystalised ginger

1¾ cups (260g) plain flour

¼ teaspoon bicarbonate of soda

1 cup (300g) store-bought thick caramel

Preheat oven to 160°C. Place the butter, sugar and vanilla in a food processor and process, scraping down the sides when necessary, for 2–3 minutes or until pale and creamy. Add the egg and process until combined. Add the dates, ginger, flour and bicarbonate of soda and process until the dates are finely chopped and a dough forms.
Roll the dough between 2 sheets of non-stick baking paper to 5mm thick. Refrigerate for 30 minutes or until firm. Using a 7cm round cookie cutter, cut out 28 rounds. Place cookies on 2 lightly greased large baking trays lined with non-stick baking paper and cook for 8–10 minutes or until golden brown.
Allow to cool slightly on trays before transferring to wire racks to cool completely. Place the caramel in a piping bag fitted with a 1cm fluted nozzle and pipe onto half the biscuits. Sandwich with the remaining biscuits to serve. Makes 14.

There are no comments for this entry yet.