gingerbread houses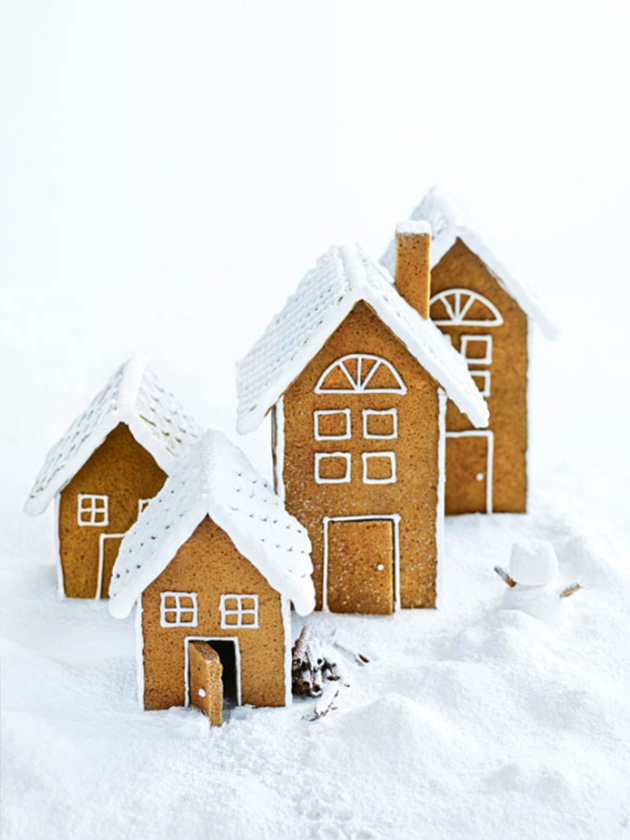 1.2kg plain (all-purpose) flour

2 teaspoons bicarbonate of (baking) soda

1½ cups (260g) light brown sugar

1 tablespoon ground ginger

380g unsalted butter, melted

1⅔ cups (580g) golden syrup

icing (confectioner's) sugar, for dusting

icing
4 cups (640g) icing (confectioner's) sugar

3 eggwhites

¼ teaspoon cream of tartar

1 tablespoon lemon juice

Preheat oven to 180°C (350°F). Place half of each of the flour, bicarbonate of soda, brown sugar and ginger in a large food processor and pulse until combined. Add half the butter and half the golden syrup and process until a dough comes together. Transfer to a large bowl. Repeat with the remaining dry and wet ingredients. Add the second batch of dough to the first and knead until smooth and combined.

Divide the dough into 4 equal pieces. Using your fingers, press each piece into a 25cm x 37cm Swiss roll tin to make 4 rectangles, smoothing the tops with the back of a metal spoon. Bake in 2 batches for 12–15 minutes or until golden.

Download, print and use scissors to cut out the templates in the link below.

Transfer 1 gingerbread sheet onto a large chopping board and begin cutting out the shapes while still hot. Starting with

a large house, place the roof template and the templates for the front and back of the house on the gingerbread and, using a metal ruler and sharp knife, cut the shapes+. Cut the roof tile in half where marked and cut out a door on the front of the house. Cut 2 even triangles from the top of the rectangles, lining up with the dotted line to create the rooftop.

Transfer a second gingerbread sheet to a large chopping board. Place the templates for the walls and chimney of the large house on the gingerbread, as well as all the templates for one small house. Cut out the shapes+, ensuring you cut the roof tiles in half, the large and small house walls in half and the chimney in half, where marked. Cut 2 even triangles from the top of the rectangles, lining up with the dotted lines, to create the rooftops. Set aside to cool completely.

Repeat the process with the remaining gingerbread sheets, creating the pieces for the second large house and second small house, leaving out the chimney template in the second batch. Set aside to cool completely.

To make the icing, place the sugar, eggwhites and cream of tartar in the bowl of an electric mixer and beat on high speed for 4–5 minutes or until light and fluffy. Add the lemon juice and beat for a further 2 minutes or until well combined. Place half the icing in a piping bag fitted with a 4mm round nozzle and the remaining icing in a piping bag fitted with a 2mm round nozzle.

Starting with the roof tiles, use the 2mm nozzle to pipe a cross-hatch pattern on the large roofs and a scallop pattern on the small roofs+. Pipe 1 curved window and 4 smaller windows on each of the 2 large house fronts, and 2 windows on the 2 small house fronts. Pipe around each doorway and pipe the doorknobs.

Using the 4mm nozzle, pipe along the 2 long inside edges of the front of the large house and secure the 2 side walls. Leave for 2 minutes or until set. Repeat with the back section of the house. Pipe along the edges of the rooftops and secure the roof tiles to the house, holding for a few minutes until the icing starts to set. Pipe along the top edge of the roof and outline of the house. For the chimney, mark a diagonal line along the rectangles to match the angle of the roof and, using a small serrated knife, cut off both pieces. Pipe along 1 side and stick the 2 pieces together. Pipe on the diagonal edge and press onto the roof. Hold for 2 minutes or until the icing starts to set. Repeat with the remaining pieces to build the remaining houses. Allow to set completely for 20 minutes. Gently push the doors open and dust the roofs with icing sugar. Makes 2 large houses and 2 small houses
COOK'S TIPS
+ Using scissors, cut out the paper templates along the solid black lines then place them directly on the gingerbread. Use them as stencils, cutting around the outside with a large serrated knife.
+ It's easiest to cut out the shapes while the gingerbread is still warm. While you are working with 1 sheet, set the others aside under a tea towel.
+ Use a metal ruler to help you cut out the door and the top of the roof sections.
+ For a more manageable village, you can halve this recipe to make 1 small house and 1 large house.
Photography: Chris Court
donna hay team
Hi Tracey, we have used icing sugar as the snow. Hope this helps! the dh team
Tracey Buskes
Hello, can you please tell me what the house is sitting on (as in the snow)? Thank you