gingerbread, licorice and pretzel rocky road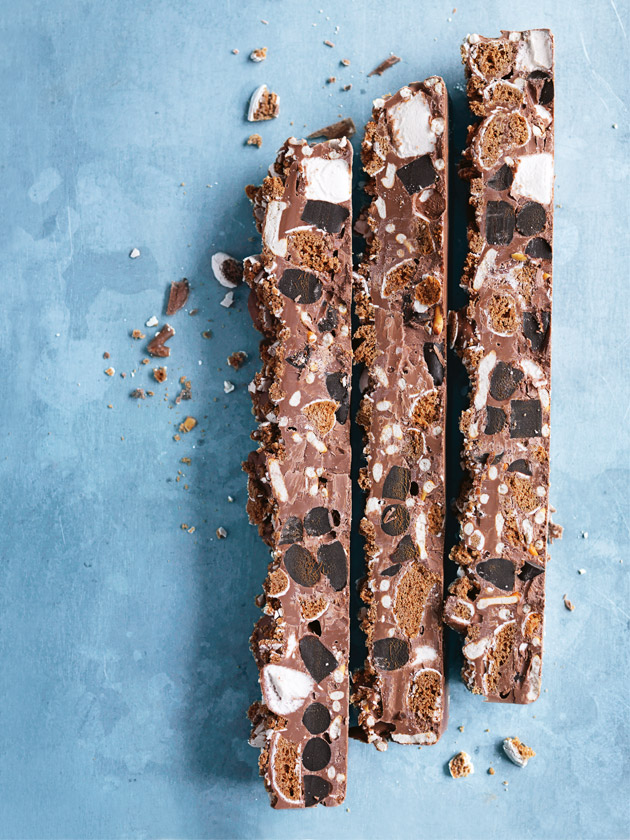 800g milk chocolate, melted

2 tablespoons vegetable oil

2 cups (100g) mini pretzels

2 cups (220g) licorice, chopped

2 cups (160g) iced gingerbread biscuits, chopped,

plus 1 cup (80g) extra, finely chopped

2 cups (180g) white marshmallows

Place the chocolate and oil in a large bowl and mix well to combine. Set aside 1 cup (150g) of the mixture. Add the pretzels, licorice, gingerbread and marshmallows to the large bowl and mix well to combine.
Pour the mixture into a lightly greased 20cm x 30cm slice tin lined with non-stick baking paper and smooth the top. Pour over the reserved chocolate mixture, gently tap and smooth evenly. Sprinkle with the extra gingerbread. Refrigerate for 30 minutes or until set. Cut into bars to serve. Makes 24 squares or 8 bars.

+ You can store rocky road in a cool, dark place for up to one week.
Gen Hammerton
This is my favourite Christmas gift. People absolutely love the flavour combination.