hazelnut and brandy forest cake
with cream cheese icing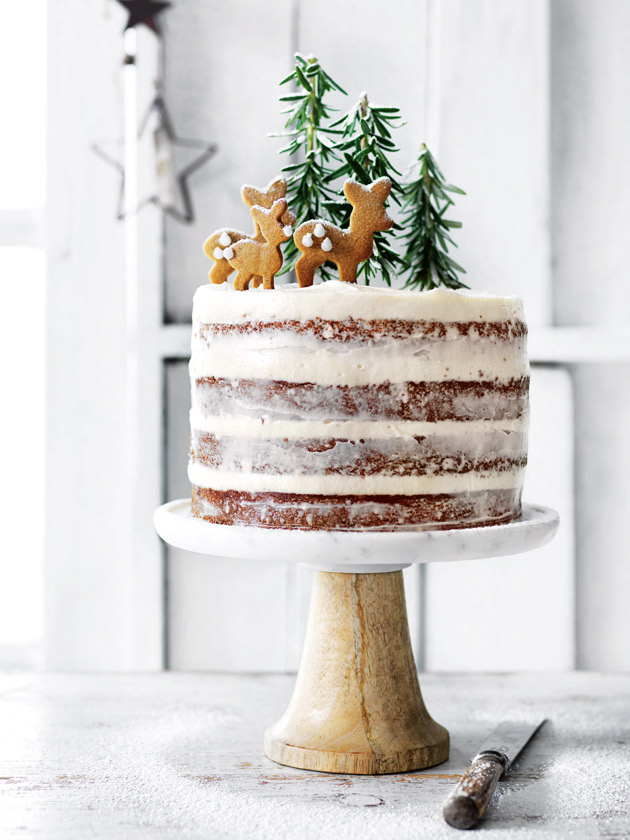 225g unsalted butter, chopped and softened

1½ cups (260g) light brown sugar

2 teaspoons vanilla extract

6 eggs

2¼ cups (335g) self-raising (self-rising) flour, sifted

2¼ cups (225g) hazelnut meal (ground hazelnuts)

1 teaspoon ground cinnamon

½ cup (125ml) milk

¼ cup (60ml) brandy or fresh orange juice, plus 2 tablespoons extra for brushing

gingerbread reindeer, for decorating

1 cup (160g) icing (confectioner's) sugar, sifted, plus extra for dusting

2–2½ teaspoons boiling water

3 thick sprigs rosemary

cream cheese icing
500g cream cheese, chopped and softened

100g unsalted butter, chopped and softened

2 cups (320g) icing (confectioner's) sugar, sifted

2 teaspoons vanilla extract

Preheat oven to 160°C (325°F). Line 2 x 18cm round cake tins with non-stick baking paper. Place the butter, sugar and vanilla in the bowl of an electric mixer and beat for 5–6 minutes or until pale and creamy. Add the eggs, 1 at a time, beating well after each addition. Add the flour, hazelnut meal, cinnamon, milk and brandy and beat on low speed until just combined. Divide the mixture evenly between the tins. Bake for 55 minutes – 1 hour or until cooked when tested with a skewer. Allow to cool in the tins for 10 minutes, before turning out onto a wire rack to cool completely.

While the cake is cooling, make the cream cheese icing. Place the cream cheese, butter, sugar and vanilla in a clean bowl of the electric mixer. Beat for 8 minutes or until pale and fluffy+.

To assemble the cake, trim the tops and slice each cake in half horizontally, using a large serrated knife. Brush each layer of cake with the extra brandy. Place the base of 1 of the cakes on a cake stand or plate and spread with ⅔ cup (160ml) of the icing. Repeat the process 3 more times, finishing with the remaining icing.

To decorate the reindeer, place the icing sugar and boiling water in a small bowl and mix to combine. Spoon into a piping bag fitted with a small round nozzle and pipe spots onto each deer. Top the cake with the rosemary and the reindeer and dust with icing sugar to serve. Serves 10–12
+ Set the cream cheese icing aside in the refrigerator for 15 minutes if it needs to firm slightly.
This recipe is from Donna's new series donna hay christmas, exclusive to Disney+
Photography: Chris Court

donna hay team
Hi Charmaine, of course you could make the cake the day before, however only assemble the cake with the cream cheese icing just before serving. Happy baking!
charmaine perkins
Could I make the cakes the day before?