individual ginger and caramel trifles
with almond praline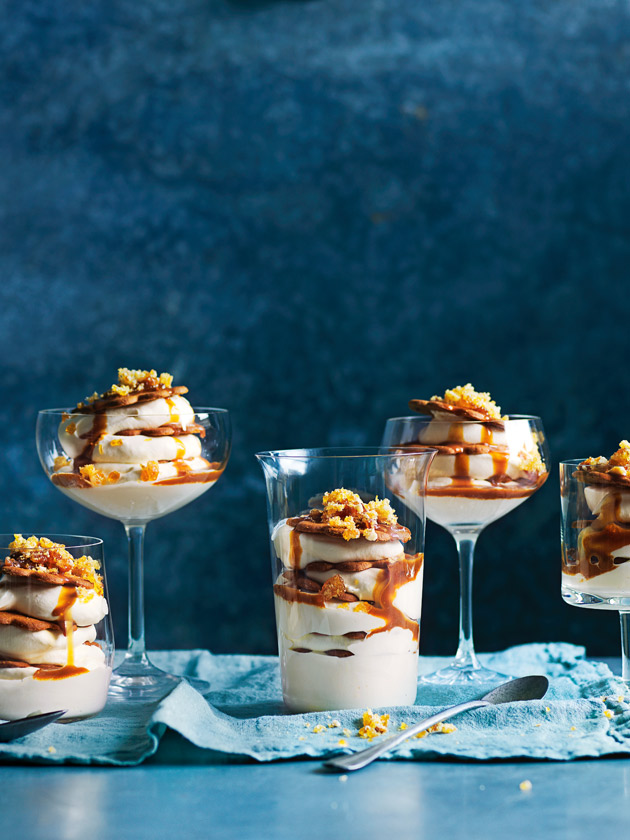 ½ cup (110g) caster (superfine) sugar

¼ cup (60ml) water

¼ cup (40g) almonds

2½ cups (625ml) single (pouring) cream

2 tablespoons icing (confectioner's) sugar, sifted

1 teaspoon vanilla extract

½ cup (125ml) dulce de leche or thick caramel

1 tablespoon butterscotch schnapps

24 gingersnap biscuits

Line a small baking tray with non-stick baking paper. Place the sugar and water in a small saucepan over low heat and cook for 4–5 minutes or until the sugar is dissolved. Increase the heat to high and cook, without stirring, for 8–9 minutes, or until dark golden brown. Add the almonds and pour immediately onto the prepared tray. Set aside to cool completely.

Once the praline has cooled, place in a mortar and pound with a pestle until crushed.

Place the cream, icing sugar and vanilla in a large bowl and, using electric beaters, beat until soft peaks form. Place the dulce de leche and schnapps in a small bowl and mix to combine.

Divide the cream mixture and biscuits between 6 glasses. Spoon over the dulce de leche mixture and sprinkle with the almond praline to serve. Serves 6.

donna hay team
Hello Bridget, these pralines are best made just before serving, otherwise the biscuits may become too soggy. Many thanks, DH team.
Bridget Hubbard
Can anyone tell me how far in advance this recipe can be made..? Thank you.