mixed gingerbread christmas trees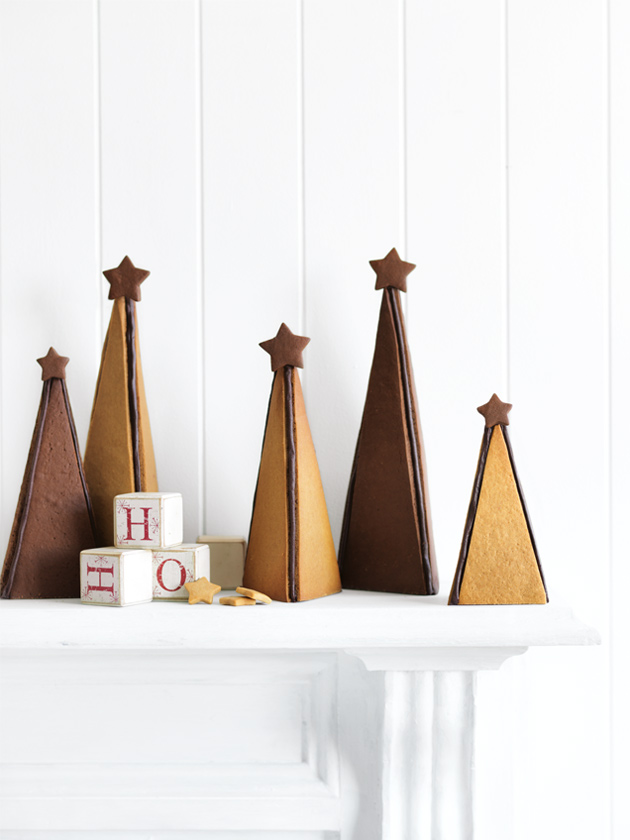 1 x quantity plain gingerbread dough (see recipe below method)

1 x quantity chocolate gingerbread dough (see recipe below method)

chocolate icing
2 cups (320g) icing (confectioner's) sugar, sifted

¼ cup Dutch cocoa powder, sifted

2 tablespoons (40ml)– ¼ cup (60ml) boiling water

Preheat oven to 140°C (275°F). Roll out each dough between 2 sheets of non-stick baking paper to 5mm-thick. Refrigerate until firm. Using the templates (see below), cut out 1 small tree, 1 medium tree and 1 large tree from each dough, re-rolling the dough as necessary. Using a 3cm star cutter, cut out 6 stars from your preferred dough. Place the trees and stars on baking trays lined with non-stick baking paper and bake for 23–25 minutes or until dry to the touch. Allow to cool completely on trays.

To make the icing, place the sugar and cocoa in a medium bowl. Gradually whisk in enough of the boiling water until the mixture is smooth and pliable. Place the icing in a piping bag fitted with a 5mm nozzle. Pipe the icing onto the edges of the trees+ and assemble 3 matching sides together. Set aside for 30 minutes or until set. Pipe the icing on top to attach the stars. Makes 6 trees.

+ To ensure your edges are flush and straight, use a small serrated knife to trim the edges.

Recipes and templates:
donna hay team
Hi Mel, apologies! The issue is now fixed and the template is updated. The dh team
Mel V
Hi, I'd love to make this but this template hasn't uploaded onto your site. Can you please add this one very soon so we can create these very cute Christmas Trees!
Thank you!!