mixed gingerbread christmas trees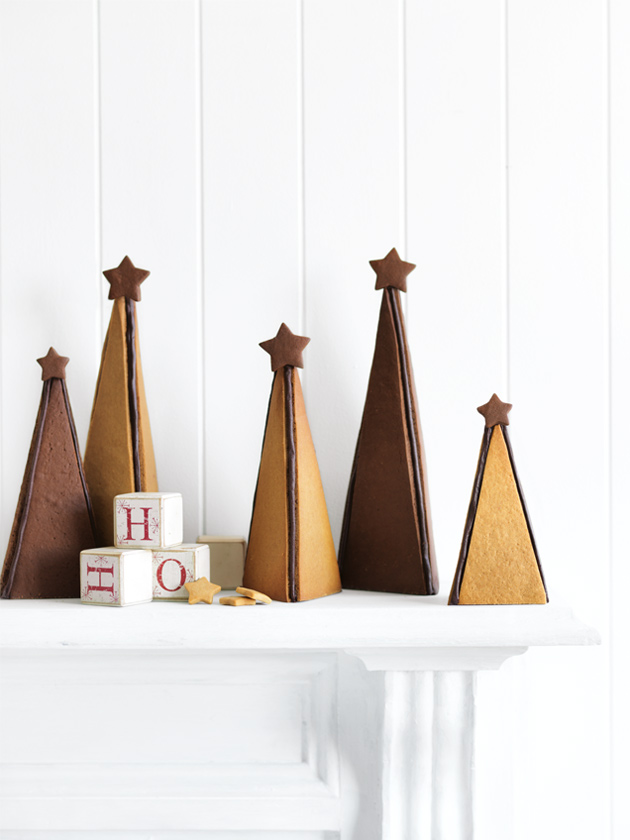 plain gingerbread dough
125g unsalted butter, softened

½ cup (90g) light brown sugar

⅔ cup (230g) golden syrup

2½ cups (375g) plain (all-purpose) flour, sifted

1 teaspoon bicarbonate of (baking) soda, sifted

2 teaspoons ground ginger

1 teaspoon mixed spice

chocolate gingerbread dough
125g unsalted butter, chopped and softened
½ cup (90g) light brown sugar

⅔ cup (230g) golden syrup

2⅓ cups (350g) plain (all-purpose) flour, sifted

⅓ cup (35g) cocoa powder, sifted

1 teaspoon bicarbonate of (baking) soda, sifted

2 teaspoons ground ginger

1 teaspoon mixed spice
chocolate icing
2 cups (320g) icing (confectioner's) sugar, sifted
¼ cup (25g) cocoa powder, sifted
2 tablespoons boiling water, plus 1 tablespoon extra
To make the plain gingerbread dough, Place the butter and sugar in the bowl of an electric mixer and beat for 10–12 minutes or until pale and creamy. Scrape down the sides of the bowl, add the golden syrup, flour, bicarbonate of soda, ginger and mixed spice. Beat until a smooth dough forms. Roll dough out between 2 sheets of non-stick baking paper to 5mm thick. Refrigerate for 30 minutes or until firm.
To make the chocolate gingerbread dough, Place the butter and sugar in the bowl of an electric mixer and beat for 10−12 minutes or until pale and creamy. Scrape down the sides of the bowl and add the golden syrup, flour, cocoa, bicarbonate of soda, ginger and mixed spice. Beat until a smooth dough forms. Roll dough out between 2 sheets of non-stick baking paper to 5mm thick. Refrigerate for 30 minutes or until firm.
Preheat oven to 140°C (275°F). Line 2 large baking trays with non-stick baking paper. Download, print and use scissors to cut out the templates in the links below. Alternatively, create your own templates using the measurements below+.

Using the templates as a guide and a small sharp knife, cut the panels for 1 small, 1 medium and 1 large tree from each sheet of dough, re-rolling as necessary. Using a 2cm and 3cm star-shaped cutter, cut 6 stars from the dough of your choice.
Place the trees and stars on the trays and bake for 23–25 minutes or until golden and dry to the touch. Allow to cool completely on the trays.
To make the chocolate icing, place the sugar and cocoa in a medium bowl. Gradually add the water and whisk until the mixture is smooth and pliable, only adding the extra water if necessary.
Spoon the icing into a piping bag fitted with a 5mm round nozzle. Trim to straighten the edges of the trees, using a small serrated knife, and pipe icing onto each long edge. Assemble 3 matching sides together, pressing gently to attach, and allow to stand for 30 minutes or until set.
Pipe a little icing onto the top of each tree and attach the stars to serve. Makes 6
+ Draw 1 panel of each-sized tree on paper. A small tree is 17cm tall and has an 8cm-wide base. A medium tree is 22cm tall and has a 9cm-wide base. A large tree is 29cm tall and has a 10cm-wide base. Use scissors to cut out the 3 templates. Use the templates to cut 3 panels for each tree from each sheet of dough.
TIPS:
If the dough feels too soft at any stage, you can refrigerate it for a few minutes before continuing. Freeze any leftover dough, wrapped in plastic wrap, for up to 2 months.
Photography: William Meppem
donna hay team
Hi Mel, apologies! The issue is now fixed and the template is updated. The dh team
Mel V
Hi, I'd love to make this but this template hasn't uploaded onto your site. Can you please add this one very soon so we can create these very cute Christmas Trees!
Thank you!!