passionfruit three-milk ice-cream cake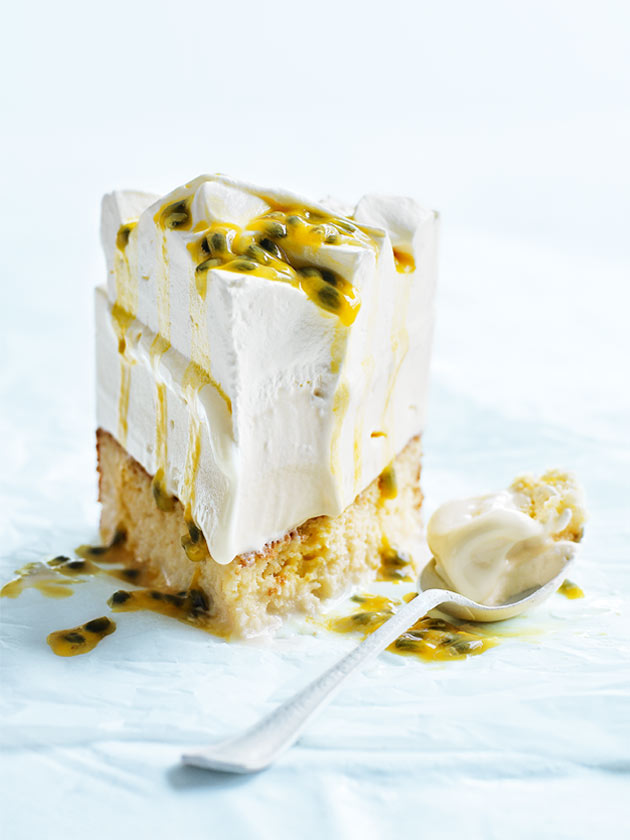 90g unsalted butter, softened

½ cup (110g) caster (superfine) sugar

1 teaspoon vanilla extract

3 eggs

¾ cup (110g) self-raising (self-rising) flour, sifted

2 litres vanilla ice-cream

½ cup (125ml) sweetened condensed milk

1 cup (250ml) milk

½ cup (125ml) buttermilk

½ cup (125ml) single (pouring) cream

½ cup (120g) sour cream

1 tablespoon icing (confectioner's) sugar

¼ cup (60ml) passionfruit pulp (approximately 3 passionfruit)

Line a lightly greased 20cm round deep-sided loose-based cake tin with non-stick baking paper. Preheat oven to 160°C (325°C). Place the butter, sugar and vanilla in the bowl of an electric mixer and beat for 8–10 minutes or until pale and creamy.
Scrape down the side of the bowl and add the eggs, one at a time, beating well after each addition. Add the flour and beat on low speed until just combined. Spoon the mixture into the tin and bake for 30–35 minutes or until cooked when tested with a skewer. Allow to cool in the tin for 5 minutes before transferring to a wire rack to cool completely.
Lightly grease and re-line the cleaned tin with non-stick baking paper and freeze until ready to use. Place the ice-cream in the bowl of an electric mixer and beat on low speed for 1–2 minutes or until softened. Spoon into the tin and spread evenly with a palette knife. Freeze for 3–4 hours or until frozen. Use a skewer to make multiple holes in the cooled cake and place on top of the frozen ice-cream base. Place the condensed milk, milk and buttermilk in a medium bowl and stir to combine. Place the tin on a tray to catch any spills and pour the milk mixture, ½ cup (125ml) at a time, over the cake. Freeze for 30 minutes or until chilled.

Place the cream, sour cream and icing sugar in a medium bowl and whisk until stiff peaks form. Invert the cake onto a serving plate and remove the tin. Top with the cream and passionfruit and serve immediately. Serves 8–10.
tips + tricks
+ You can make the ice-cream layer of the three-milk cake 2–3 days in advance and keep it in the freezer. Make the sponge layer 2–3 days ahead and keep it refrigerated, wrapped in plastic wrap. Assemble the cake and complete the remaining steps 30 minutes – 1 hour before serving.
There are no comments for this entry yet.